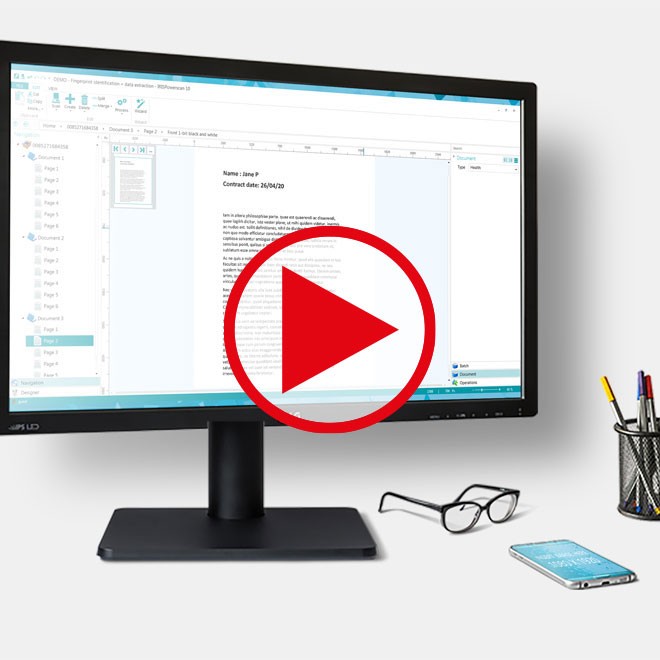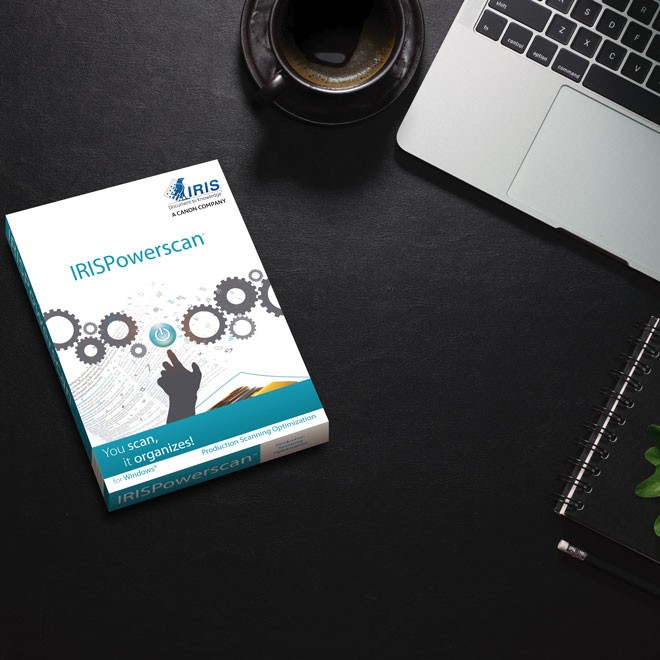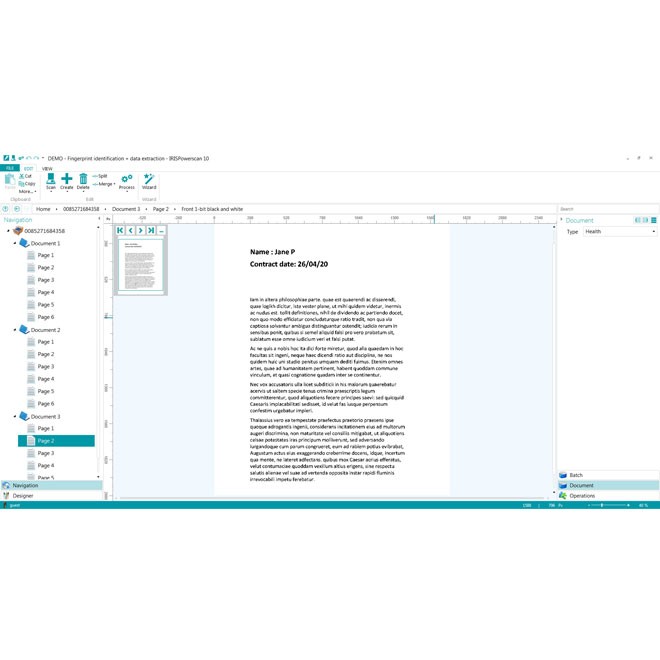 Capture & classification
IRISPowerscan 11 SMB
A modular solution capable of fast scanning and processing of very large volumes of documents, up to 10,000 documents per computer per day

Wide range of document output formats available simultaneously (PDF, Word...) including PDF/A-1b, ideal for long term archiving

Hyper-compression: compresses your documents up to 50 times with the same legibility ! Facilitates document sharing and storage

Fast and accurate classification of documents

Advanced document type identification based on layout recognition (no separators or barcodes needed)

Indexing of strategic data (text, numbers, barcodes, etc)

Easy export to document management systems and business applications (Microsoft® SharePoint®, Therefore™, FTP, etc)

Develop a connector to your own document management application thanks to an easy-to-use .NET wrapper

Easy information retrieval: indexing of your documents allows you to easily find what you need using keywords or sections of text content

Easy to install and to use

No page limitation

Interfaces with all types of scanner

Database lookup: compare and/or match captured indexes with pre-existing databases
Download delivery
Instantaneous
30 Days
Money-back Guarantee
Lifetime License
Only for Windows
Text recognition (OCR)
IRISPowerscan uses the full potential of OCR. With just one click, you copy text to an index field. You can then automate the data extraction anywhere on the page, based on search criteria.
Data extraction
Users can teach the software to locate information with an indexing key in a document, remember its location, and extract the corresponding data in future documents, thereby reducing document processing time and making the indexing phase easier.
Intuitive interface
With IRISPowerscan, you can now create, open, or save your documents with a user-friendly menu. Simple navigation also lets you scan, view, and manage your documents. Finally, you can also use advanced options to customize your projects.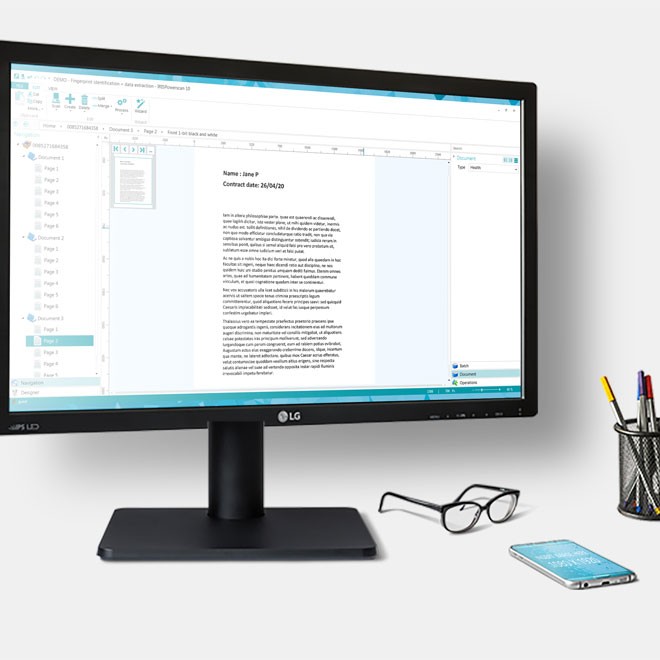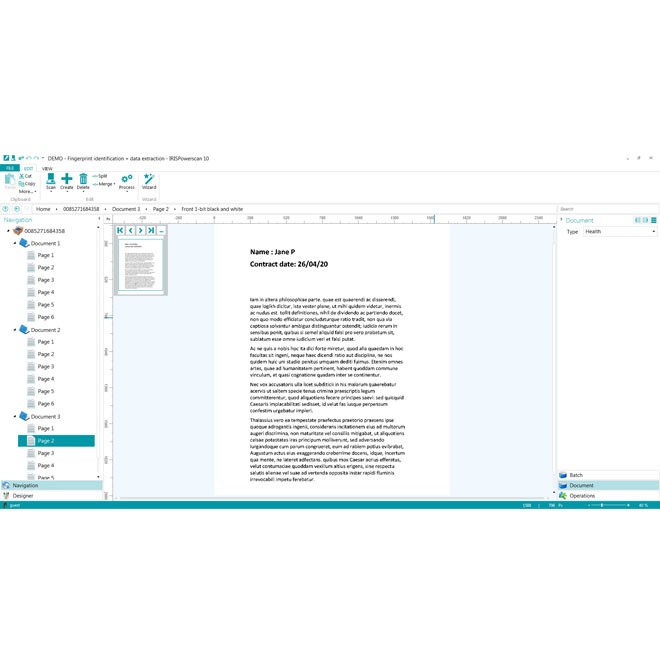 Connectivity
IRISPowerscan ensures connectivity with your files, email, printers, and document management software. Also available: IRISConnect dedicated connectors to SharePoint, Therefore, FTP, ODBC, CMIS, and cloud services (Box, Dropbox, Evernote, Google Drive, and OneDrive).
Document separation
IRISPowerscan files your documents in no time at all! The software uses a variety of techniques to automatically sort your incoming documents, such as with bar codes, patch codes, OCR/ICR areas, keywords, color detection, regulation expressions, and more.
Bar code recognition
IRISPowerscan guarantees the recognition of more than 60 types of bar codes, regardless of where they appear on the page. The presence of multiple bar codes on a single page is also supported. Bar code content can also be used to rename or separate documents.
Product name
IRISPowerScan 11
Interface languages:
English, Spanish, French, Japanese, Italian, Dutch, German, Czech, Portuguese, Magyar
Recognition languages:
All American and European languages are supported, including Central-European languages, Greek, Turkish, the Cyrillic and Baltic languages. IRISPowerscan also recognizes 4 Asian languages (Japanese, Simplified Chinese, Traditional Chinese, Korean), Hebrew and Arabic

Minimum Requirements

Windows® software

Processor: Intel Core I7 2.6 GHz or faster (64 bits), with at least 2 cores
Graphics card: Intel® Standard Graphics or higher graphics cards with 512 VRAM
RAM: 8GB
Hard disk space: 10 GB (SSD highly recommended)
Windows® operating system: Windows 8 (64 bits) // Windows 8.1 (64 bits) // Windows 10 (64 bits) // Windows 11 (64 bits) // Windows Server 2012 (64 bitss) // Windows Server 2016 (64 bits) // Windows Server 2022 (64 bits)
Internet connection for software downloading and activation