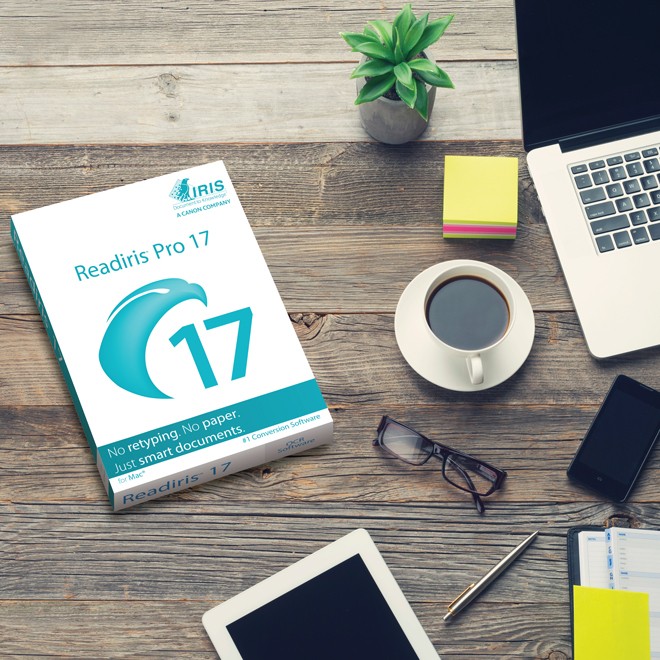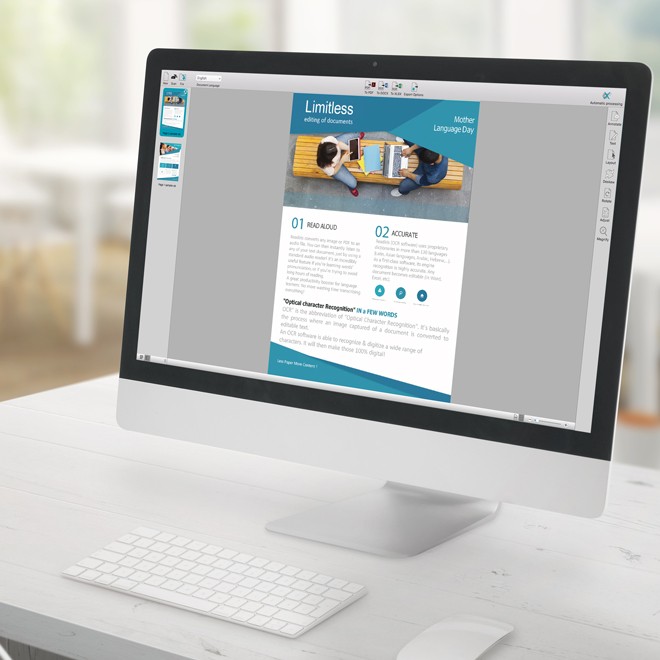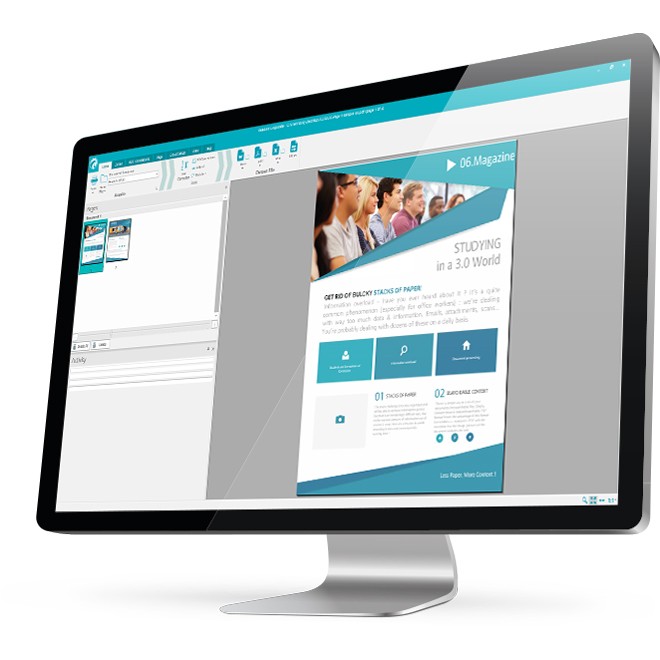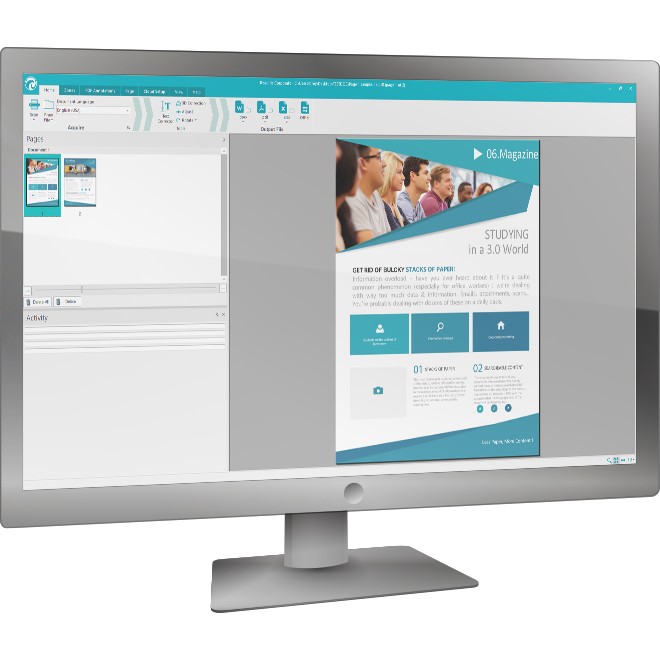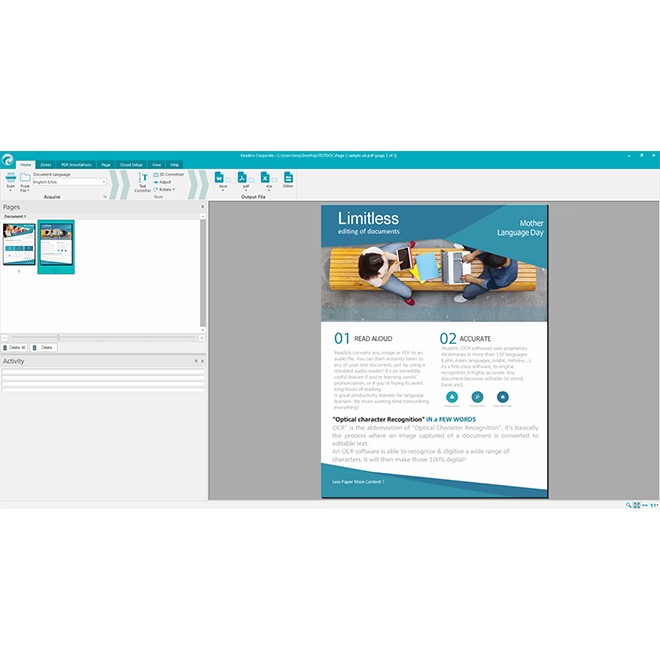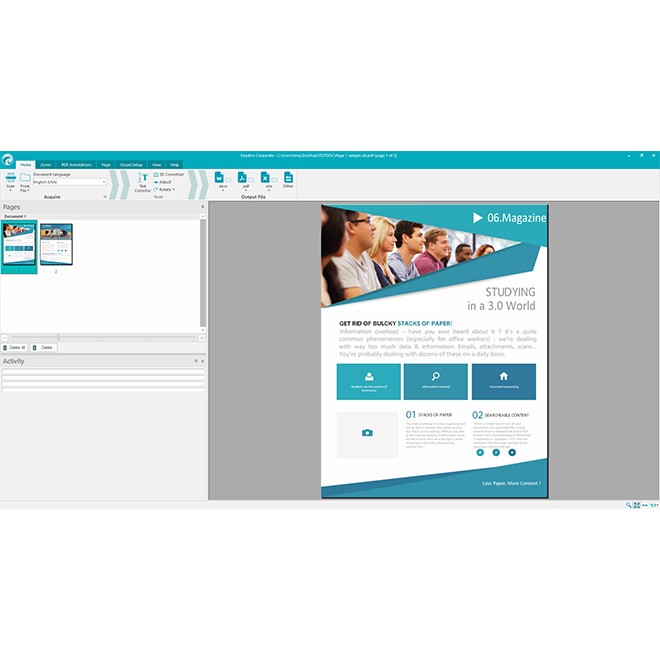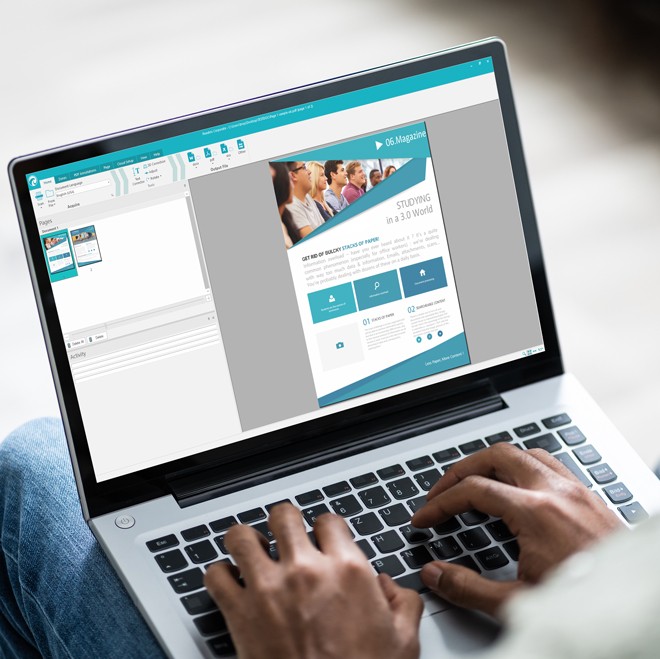 PDF & OCR software
Readiris Pro 17 Mac
Readiris™ Pro 17 for Mac® is the complete PDF and OCR solution to make best use of your scanners or files and transform all your paper documents into digital files. Create and edit your PDFs, convert and modify all your paper documents with just a few clicks. The perfect match for private users and self-employed workers. IRIS' world-reknowned OCR software will make you save the precious time you would lose retyping information from documents! Convert any paper document, PDF, or image file into digital files you can edit, search and share to the Cloud in a snap. To convert, simply right-click on your file and get the result instantly!

The perfect match for private users and self-employed workers. IRIS'worldreknowned OCR software will make you save the precious time you wouldd lose retyping information from documents ! Readiris™ Pro 17 automatically revognizes the text and layout from a image, a PDF or a scanned document and turns it into editable file(Word, Excel, PDF, HTML,TXT,

PDF Annotations: collaborate on your PDFs thanks to a full range of annotations.

Convert scans, images and PDF files into editable documents

Create, edit and merge multipage PDF files

Compress searchable PDF files up to 10 times for optimized archiving and sharing

Store and manage your converted files directly in the Cloud

Access your smart documents from any computer, smartphone or tablet
Download delivery
Instantaneous
30 Days
Money-back Guarantee
Lifetime License
Only for Apple
Advanced OCR intelligence
Readiris 17 for Windows allows you to aggregate and split, protect and sign your PDF's. It's a global solution to convert, edit and transform all your paper documents into a variety of digital formats, intuitively with a few clicks.
Edit texts embedded in your images
Revamp your images with ease by editing texts directly embedded within them. Our user-friendly tool allows you to make quick modifications, add annotations, or refine captions effortlessly. Say goodbye to the hassle of separate editing processes and unlock the convenience of enhancing your visuals by directly editing the texts within your images.
Listen to your books and other documents
Readiris software converts all your files into audio files (.mp3, .wav), for easy and accurate readings. You can listen to your audio files on any device (tablet, smart phone or desktop) and define the audio format to use when opening a file (Window Media Player, etc.).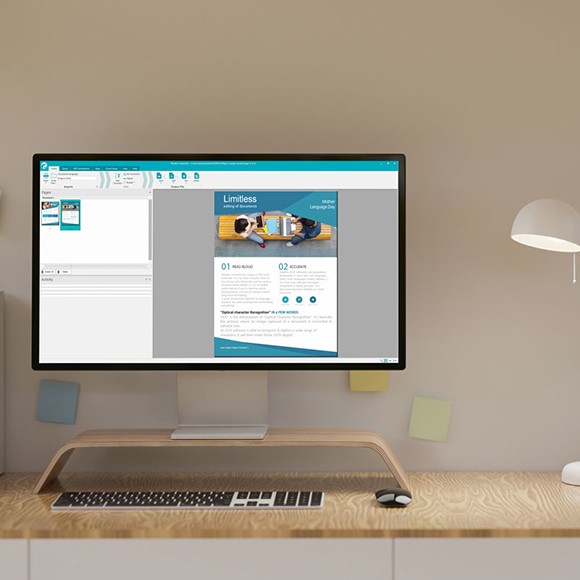 Annotate and comment a PDF
Effortlessly annotate and comment on your PDF documents with our versatile tool. Highlight important passages, add sticky notes, draw shapes, and leave insightful comments to collaborate effectively. Enhance communication, provide feedback, and streamline document collaboration with our intuitive PDF annotation and commenting features. Take your PDFs to the next level of interactivity and productivity.
PDF compressor
Optimize your PDF files with our efficient PDF compressor. Reduce file size without compromising quality, making them easier to share, store, and transmit. Our advanced compression algorithm intelligently shrinks the document while preserving essential elements. Enjoy faster uploads, efficient storage utilization, and smoother document transfers. Unlock the power of a compact PDF format with our reliable and user-friendly compressor, streamlining your document management process.
Product name
Readiris™ Pro 17 for Mac®
Readiris Pro 17 Mac 1 license - ESD
459404
Readiris Pro 17Mac "Family" 4 licenses - ESD
459405
Interface languages
English, Spanish, French, Russian, Simplified Chinese, Traditional Chinese, Korean, Japanese, Italian, Polish, Dutch, German, Danish, Finnish, Hungarian, Norwegian, Portuguese PT, Portuguese BR, Romanian, Swedish, Ukrainian, Bulgarian, Catalan , Czech, Greek, Turkish.
Supported OCR languages
138 including Asian, Arabic, Cyrillic and Hebrew (complete list available at www.irislink.com)
macOS® software

macOS® operating system: macOS X El Capitan (10.11) or higher
Processor: 1.5 Ghz or higher
RAM: 1GB
Hard disk space: 500 MB
Internet connection for software downloading and activation
Fusce vitae nibh mi. Integer posuere, libero et ullamcorper facilisis, enim eros tincidunt orci, eget vestibulum sapien nisi ut leo. Cras finibus vel est ut mollis. Donec luctus condimentum ante et euismod.
Pellentesque habitant morbi tristique senectus et netus et malesuada fames ac turpis egestas. Suspendisse eget facilisis odio. Duis sodales augue eu tincidunt faucibus. Etiam justo ligula, placerat ac augue id, volutpat porta dui.
Anna Kowalsky
- April 3, 2019
Sed id tincidunt sapien. Pellentesque cursus accumsan tellus, nec ultricies nulla sollicitudin eget. Donec feugiat orci vestibulum porttitor sagittis.
Peter Wargner
- April 3, 2019