Special Offer !
Up to 70% off !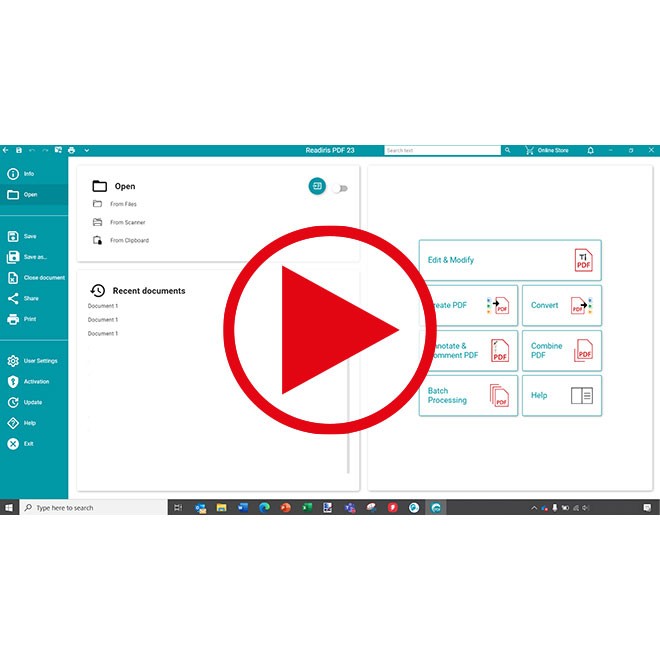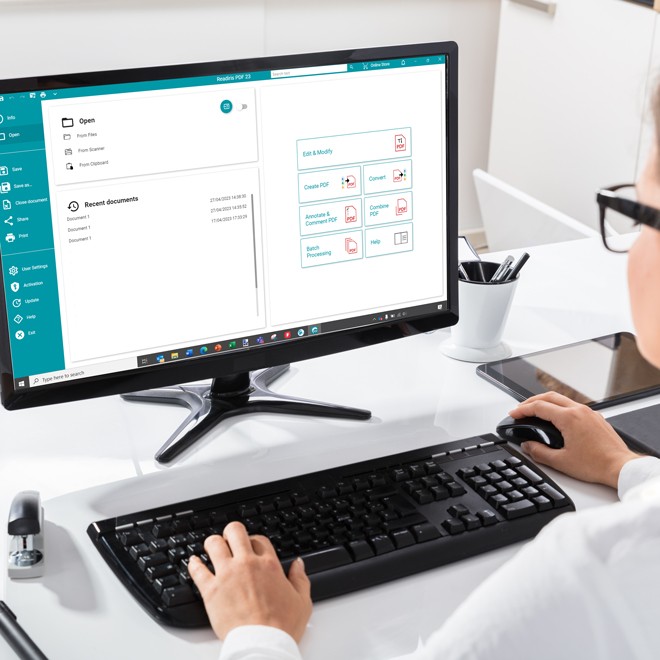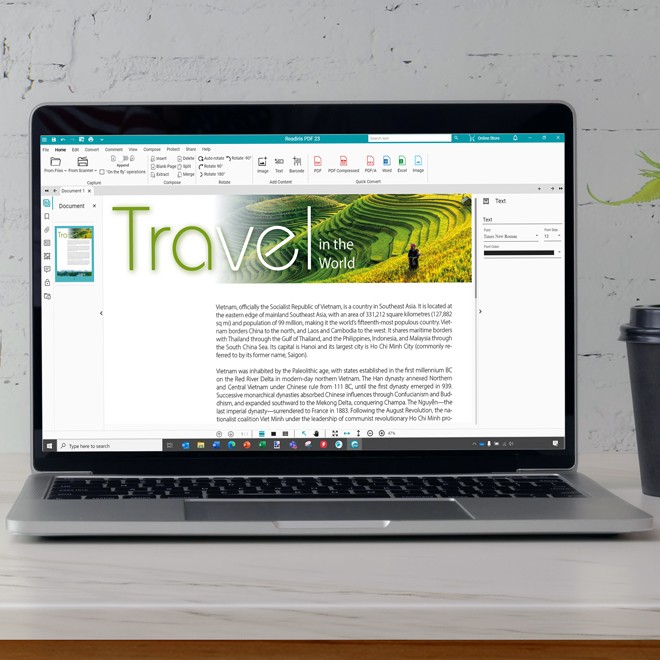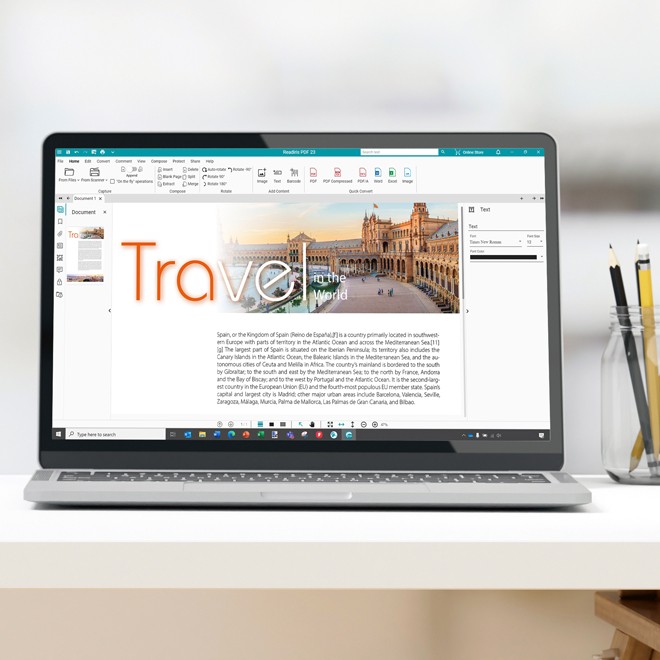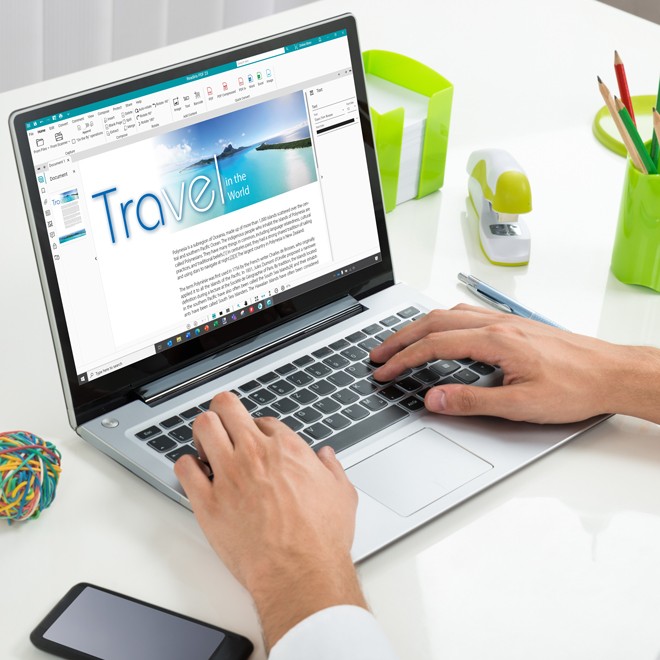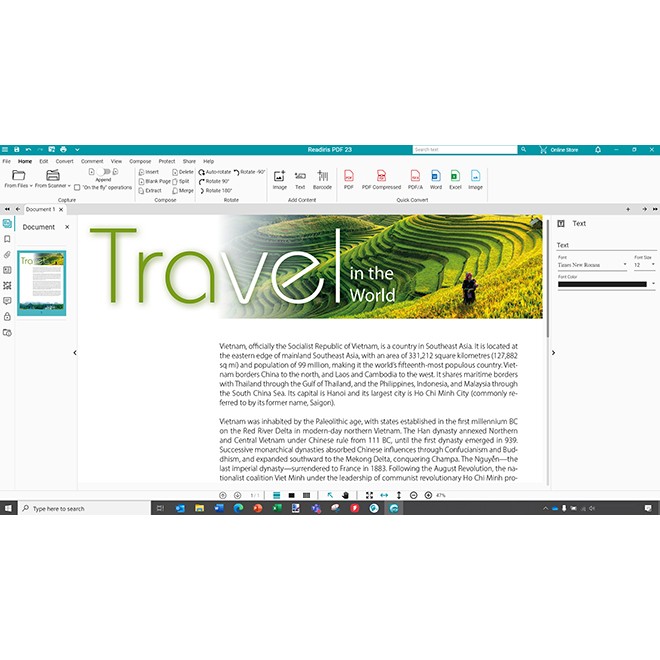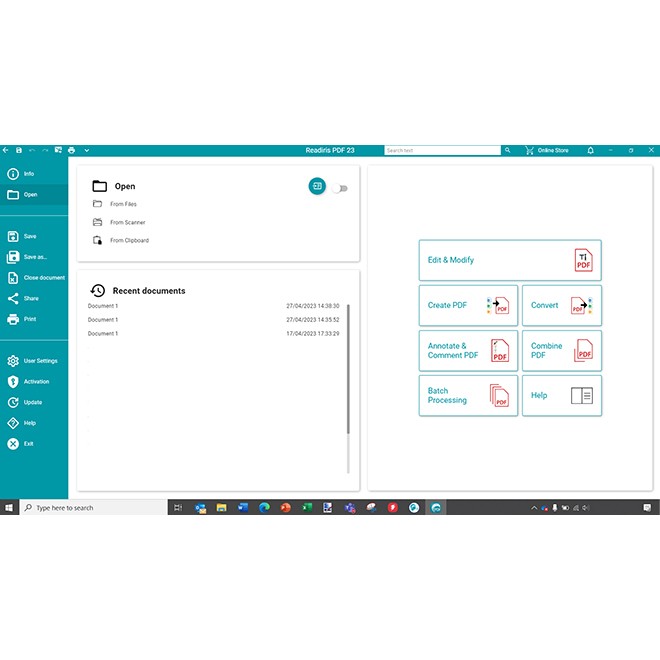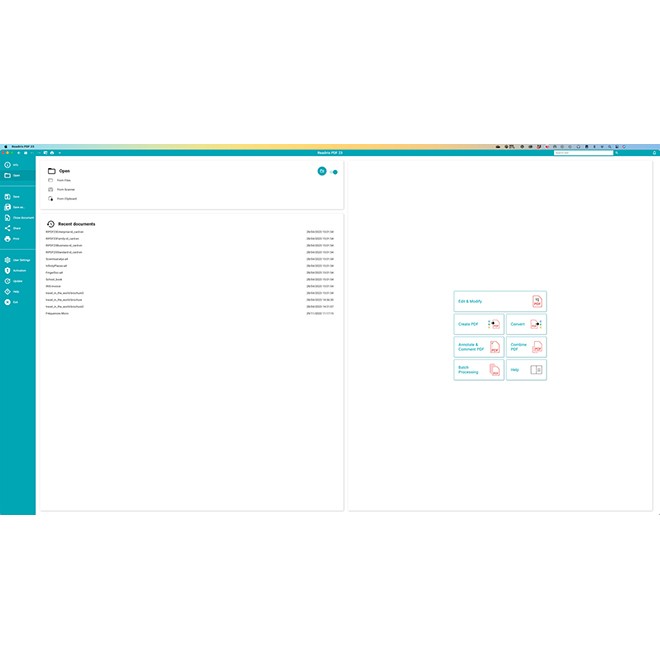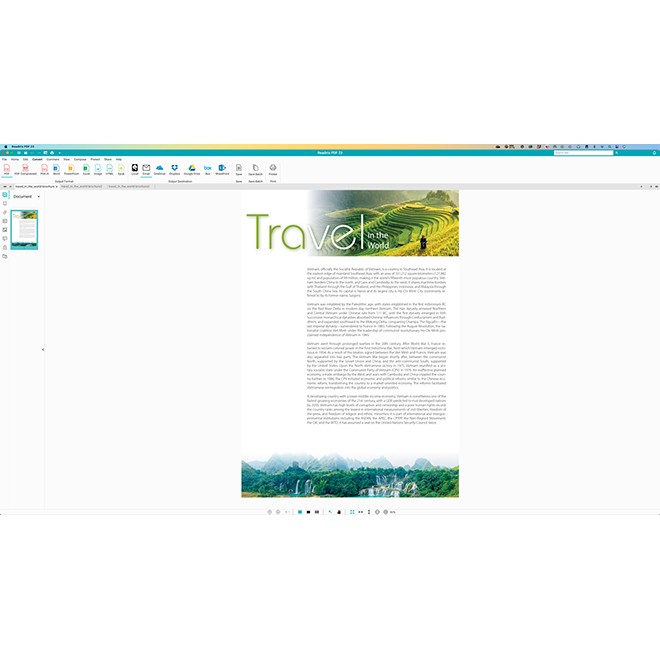 PDF & OCR software
Readiris PDF 23 Standard
Readiris PDF 23 Business is a powerful PDF centric Manager Software allowing from multiple different format' files input to compose, edit, annotate, split, sort, amend, compress, e-sign and share your own build secured single or multiple PDF files. Readiris PDF 23 centralizes all documents manipulations in one single platform to definitively simplify your life and boost your Business processes

Readiris PDF 23 Business offers all importing capabilities from files or directly from any scanners along with 138 languages recognition

Convert to JPEG, TIFF, BMP images to PDF files. Convert PDF to Word and other Microsoft office files

Create, Edit, Combine, Sort, Split, Convert, e-Sign unlimited documents to PDF

Rename on the fly your working document

Find replace easily words in one click, through all your document

Create searchable PDF files and find important content easily

Open simultaneously mutliple files to compose them with each other

Hyper compress your PDFs

Import directly scan images from any scanner
Download delivery
Instantaneous
30 Days
Money-back Guarantee
Lifetime License
Lifetime or Yearly plan
JPG to PDF - JPEG to PDF - PNG to PDF - Word to PDF
Images add excitement and contrast to your documents and presentations. The Readiris PDF 23 suite makes it easy to grab high-quality image of your choice and transform it wherever it is needed onto PDF format. Readiris PDF 23 makes it simple to convert your existing documents and images into PDF format
Edit PDF
Enhance the functionality of your company's PDF usage with Readiris's PDF text editor. If your document lacks vital details or requires content revisions for better clarity, Readiris simplifies the process. Effortlessly modify, delete, or add text sections directly within the existing PDF document, eliminating the need for complex or time-consuming alternative methods
Merge PDF
When you are dealing with numerous documents, converting each into PDF format and sending them individually can turn into a lengthy and slow process. Readiris PDF allows you to merge multiple PDF and any office 365 files into a single transferable PDF file, providing you with an organized attachment that can be sent wherever you need
Barcode library
Unlock the power of a unique and customizable barcode library. Our advanced solution empowers your business to create and manage custom barcodes tailored to your specific needs. With an array of design options and data formats, you can generate barcodes that seamlessly integrate into your operations, enhancing efficiency, inventory management, and product tracking. Streamline processes, improve accuracy, and unleash the potential of your barcode system with our innovative and versatile library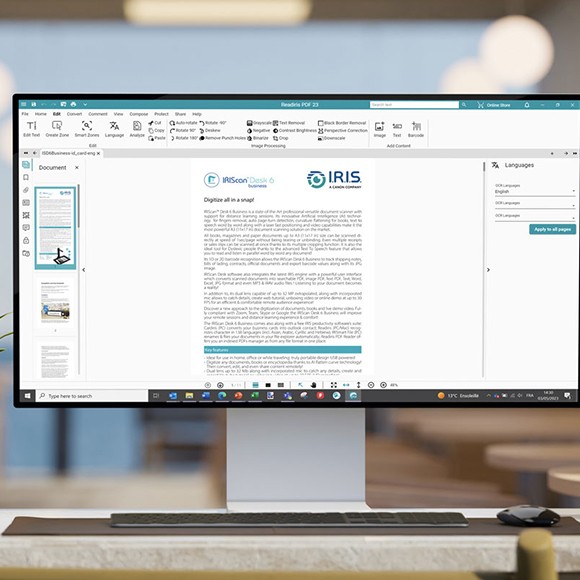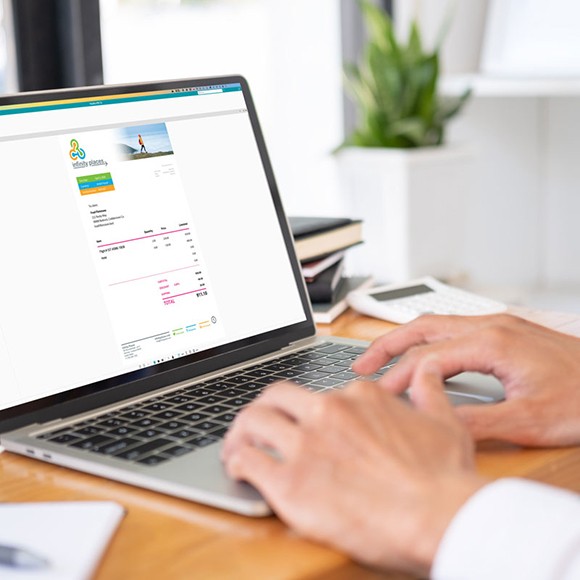 Detection of smart extraction zones
Experience the intelligent detection of smart extraction zones. Our cutting-edge technology automatically identifies and highlights the most relevant areas for data extraction, eliminating manual efforts and minimizing errors. With precise zone detection, you can effortlessly extract critical information from documents, forms, or images, streamlining your workflow and enhancing productivity. Simplify data capture and unlock the power of automation with our advanced smart extraction zone detection capabilities
Automatic document separation and naming
Streamline your document management with automatic document separation and naming. Our advanced solution intelligently identifies and separates individual documents within a batch, saving you time and effort. Additionally, it automatically assigns appropriate names to each document, ensuring easy organization and retrieval. Simplify your workflow, eliminate manual sorting, and enhance productivity with our automated document separation and naming feature.
Quick reference guide
Product name
Readiris™ PDF 22 Standard
SKU 1 license lifetime
462165
23 Interface languages
English, Spanish, French, Russian, Simplified Chinese, Korean, Japanese, Italian, Polish, Dutch, German, Arabic, Danish, Finnish, Norwegian, Portuguese, Brazilian Portuguese, Romanian, Swedish, Ukrainian, Czech, Hebrew, Turkish.
Supported OCR languages
138 including Asian, Arabic, Cyrillic and Hebrew (complete list available at www.irislink.com)

Minimum Requirements

Windows® software

Processor: 1.5 Ghz or higher
Graphics card: Intel® Standard Graphics or higher graphics cards with 512 VRAM
RAM: 8GB
Hard disk space: 5 GB
Windows® operating system: Windows® 10 or Windows® 11
Internet connection for software downloading and activation

macOS® software

Processor: 1.5 Ghz or higher
RAM: 8GB
Hard disk space: 5 GB
macOS® operating system: macOS Catalina (10.15) or higher
Internet connection for software downloading and activation
Fusce vitae nibh mi. Integer posuere, libero et ullamcorper facilisis, enim eros tincidunt orci, eget vestibulum sapien nisi ut leo. Cras finibus vel est ut mollis. Donec luctus condimentum ante et euismod.
Pellentesque habitant morbi tristique senectus et netus et malesuada fames ac turpis egestas. Suspendisse eget facilisis odio. Duis sodales augue eu tincidunt faucibus. Etiam justo ligula, placerat ac augue id, volutpat porta dui.
Anna Kowalsky
- April 3, 2019
Sed id tincidunt sapien. Pellentesque cursus accumsan tellus, nec ultricies nulla sollicitudin eget. Donec feugiat orci vestibulum porttitor sagittis.
Peter Wargner
- April 3, 2019