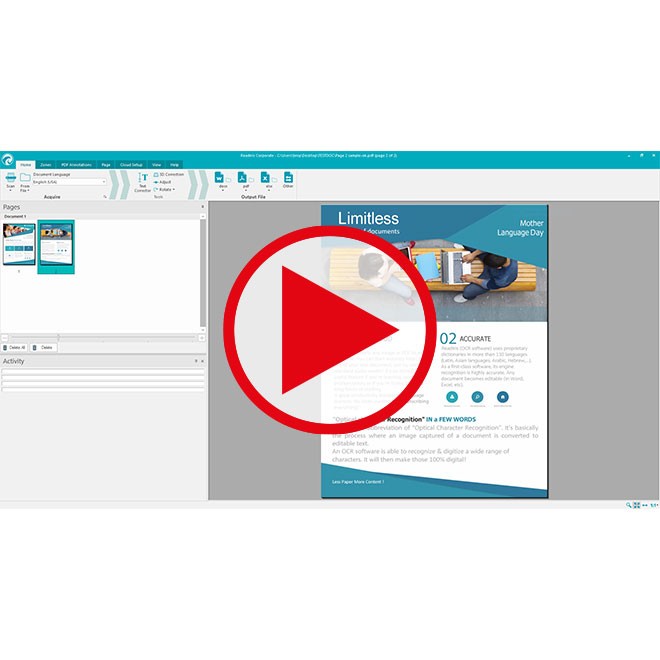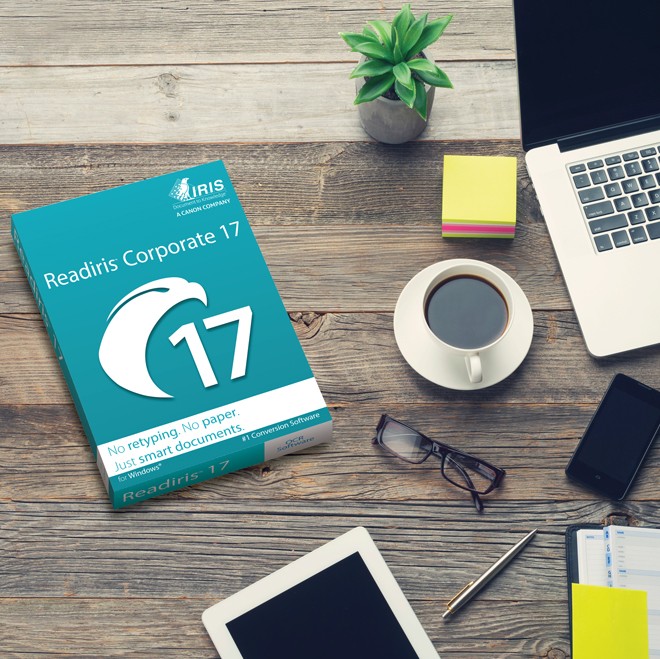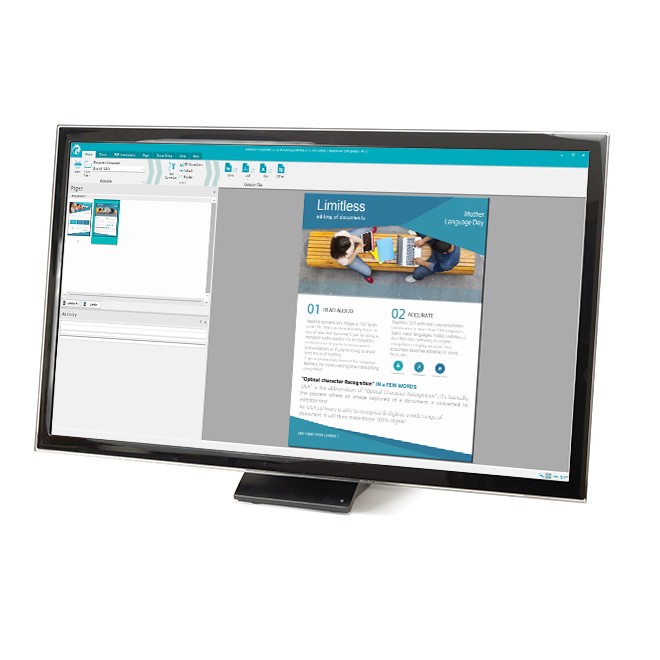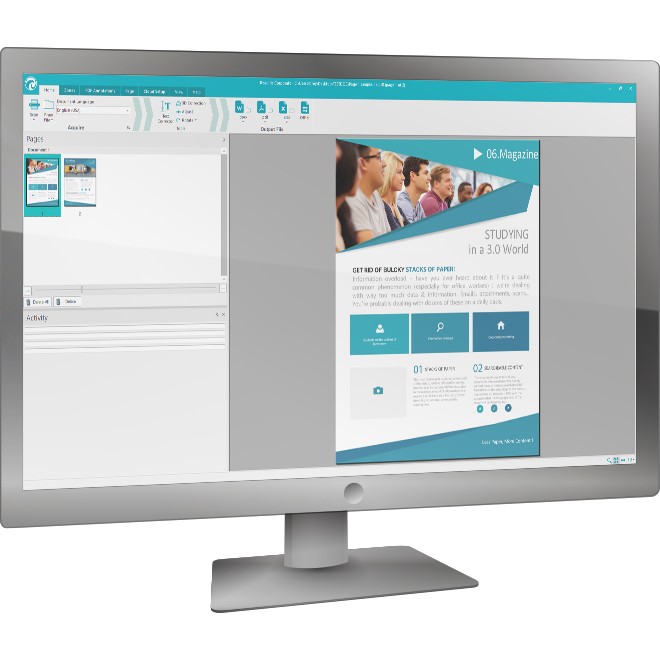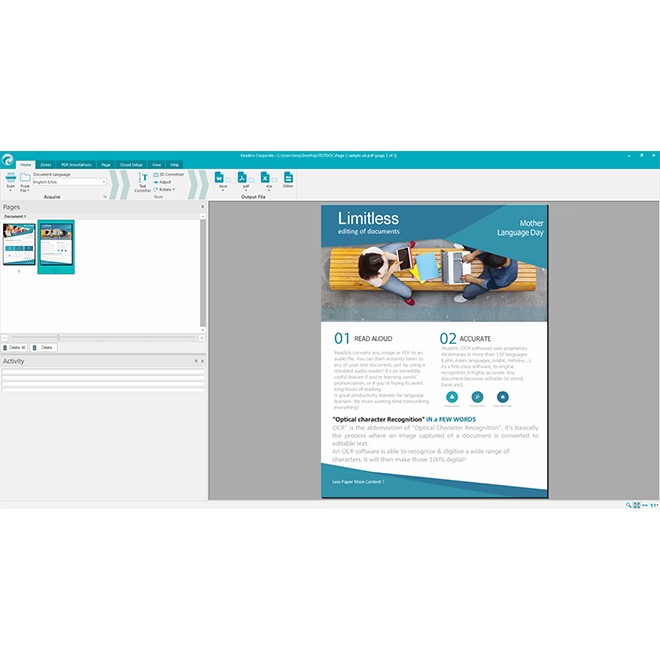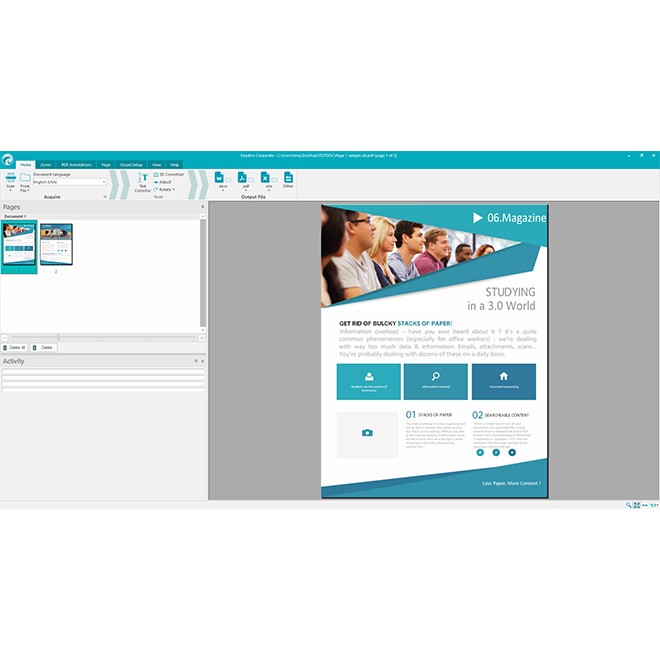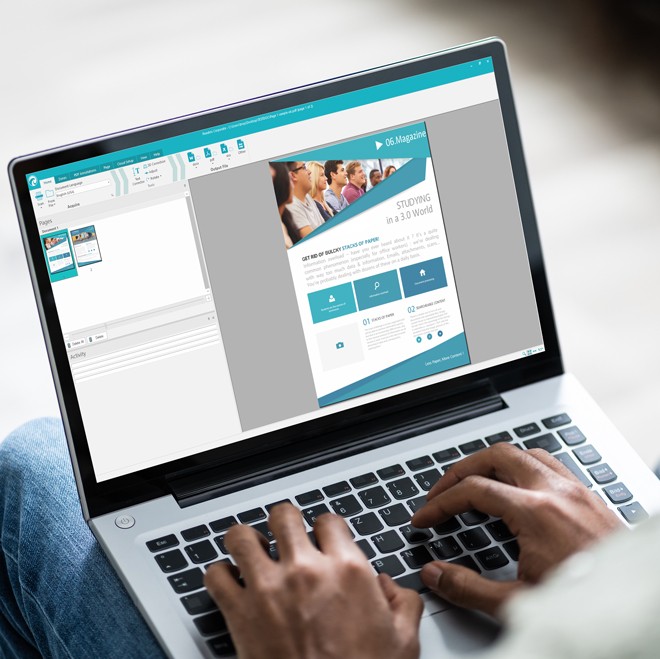 PDF & OCR software
Readiris Corporate 17 Windows
Readiris 17 Corporate for Windows allows you to aggregate and split, protect and sign your PDF's. It's a global solution to convert, edit and transform all your paper documents into a variety of digital formats, intuitively with a few clicks

Optimized interface to ease your document processing.

Document processing and opening 20% faster then previous versions. Gain productivity by optimizing your precious time focusing on your core business.

PDF Annotations: collaborate on your PDFs thanks to a full range of annotations.

Convert batches of documents, images or PDF files into editable documents including searchable PDFs

Automate your recognition process thanks to watched folders

Compress searchable PDF files up to 50 times for optimized archiving and sharing

Create, edit and merge multipage PDF files

Sign and secure your PDF files with passwords

Back-up your documents in the Cloud including in professional applications such as SharePoint and Therefore

Sort your files using document separation tools and barcodes

Access your smart documents from any computer, smartphone or tablet
Download delivery
Instantaneous
30 Days
Money-back Guarantee
Lifetime License
Only for Windows
Split your PDF
Divide and conquer your PDF files effortlessly with our PDF splitting tool. Seamlessly split large PDF documents into smaller, manageable sections for improved organization and convenience. Customize the splitting process by specifying page ranges, bookmarks, or even individual chapters. Simplify document management, enhance accessibility, and optimize workflow efficiency with our user-friendly PDF splitting feature. Take control of your PDF files and break them down to meet your specific needs.
Protect and sign your PDF files
Safeguard your PDF files with ease using our robust protection and digital signing features. Encrypt sensitive information, set user permissions, and apply watermarks to ensure document integrity and confidentiality. Additionally, add legally binding digital signatures to authenticate and secure your PDFs. With our comprehensive protection and signing capabilities, you can confidently share, store, and transmit documents while maintaining compliance and trust. Empower your PDF files with advanced security measures for peace of mind and enhanced data control.
PDF/A solutions for long-term archiving
Ensure the longevity and accessibility of your documents with our PDF/A solutions designed for long-term archiving. Convert your PDF files to the PDF/A format, specifically engineered for preservation and future-proofing. Maintain the integrity of content, metadata, and visual fidelity, while complying with archival standards. Preserve the authenticity and readability of your documents for years to come, guaranteeing seamless retrieval and compatibility. Trust our PDF/A solutions to safeguard your digital assets and enable efficient long-term archiving with ease.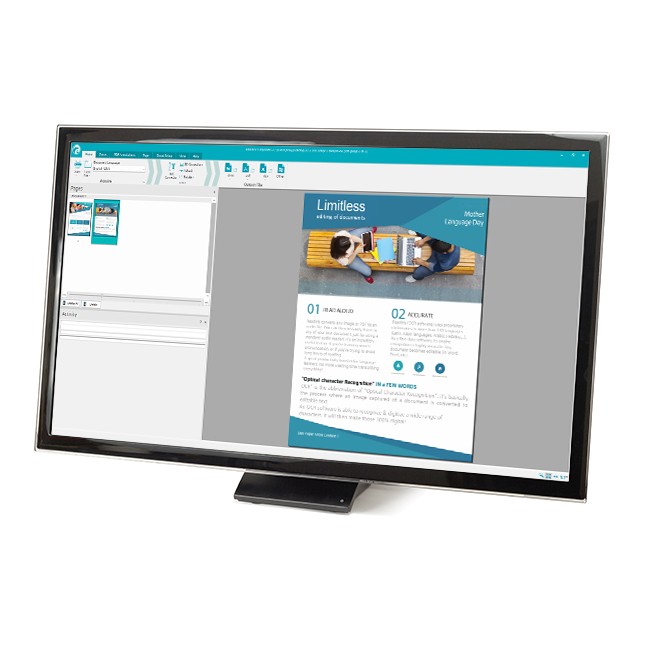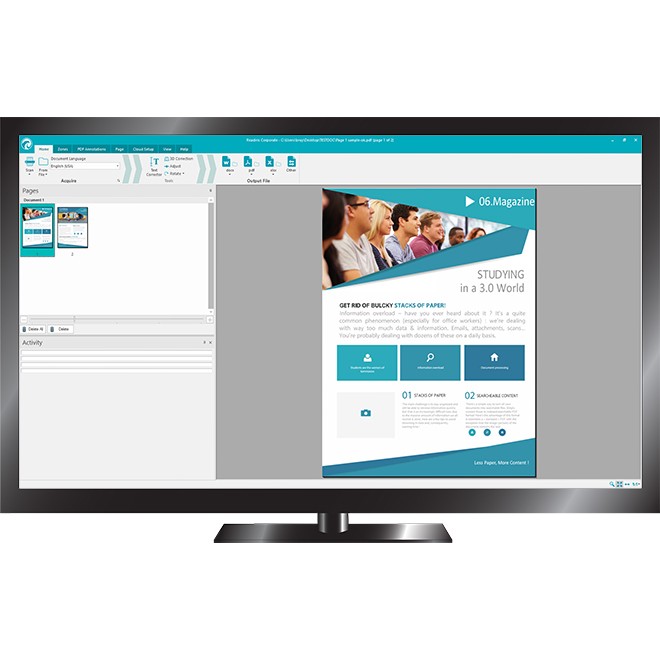 Batch processing of documentss
Accelerate your productivity with efficient batch processing of documents. Save time and effort by automating repetitive tasks such as conversions, optimizations, or data extraction across multiple files simultaneously. Our streamlined solution empowers you to process large volumes of documents swiftly and accurately. Unlock enhanced efficiency, reduce manual work, and maximize your output with the convenience of batch processing for seamless document management.
Managing watched folders
Simplify your document workflow with ease by managing watched folders. Effortlessly monitor designated folders for new files, triggering automated actions such as conversions or routing. Streamline your document management process, ensuring timely processing and eliminating manual intervention. Stay organized and efficient by harnessing the power of managing watched folders for seamless file handling.
Product name
Readiris™ Corporate 17
SKU 1 license lifetime
459402
SKU - SMB - 5 licences
459403
23 Interface languages
English, Spanish, French, Russian, Simplified Chinese, Korean, Japanese, Italian, Polish, Dutch, German, Arabic, Danish, Finnish, Norwegian, Portuguese, Brazilian Portuguese, Romanian, Swedish, Ukrainian, Czech, Hebrew, Turkish.
Supported OCR languages
138 including Asian, Arabic, Cyrillic and Hebrew (complete list available at www.irislink.com)
Windows® software

Windows versions: Windows 7 - 8 - 10
Processor: 1.5 Ghz or higher
Graphics card: Intel® Standard Graphics or higher graphics cards with 512 VRAM
RAM: 1GB (2GB recommended)
Hard disk space: 500 MB
Internet connection for software downloading and activation