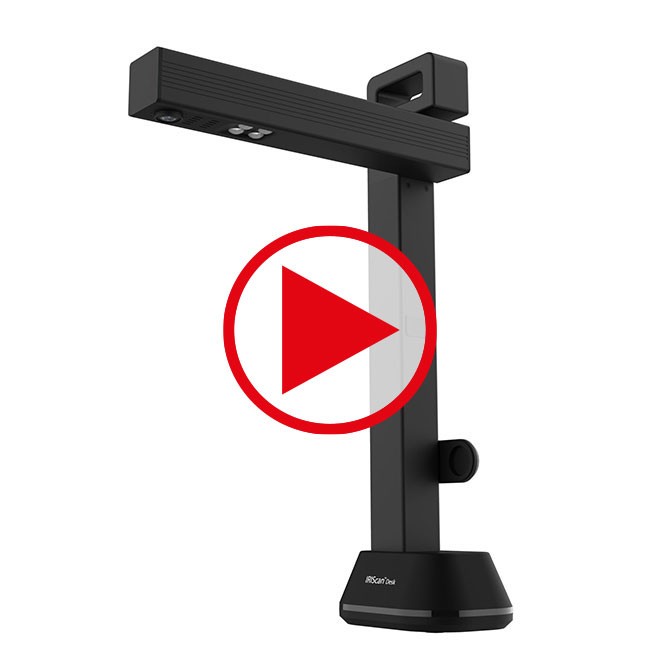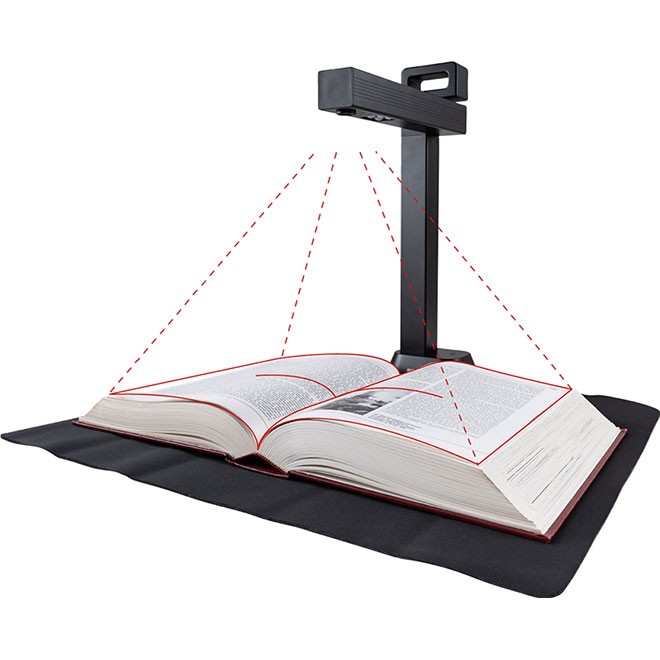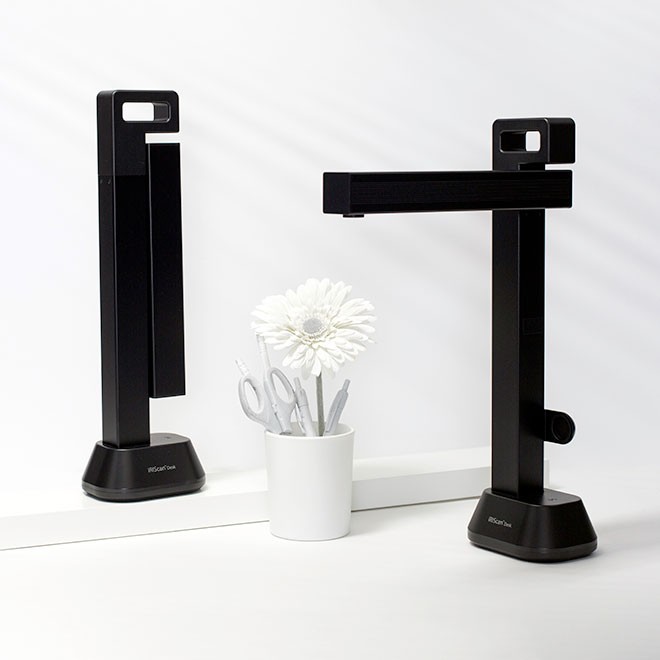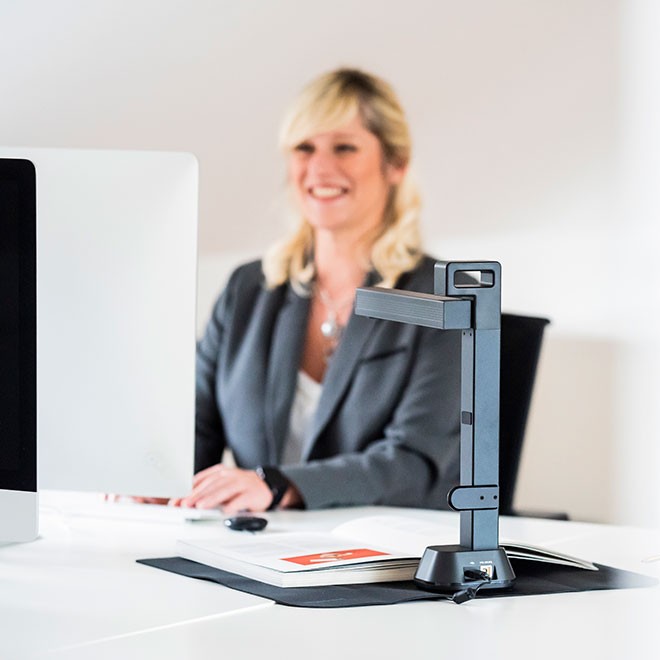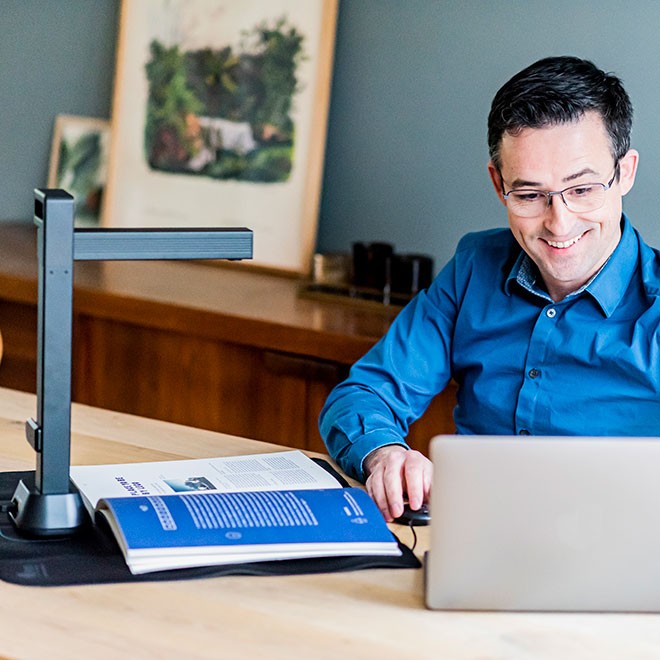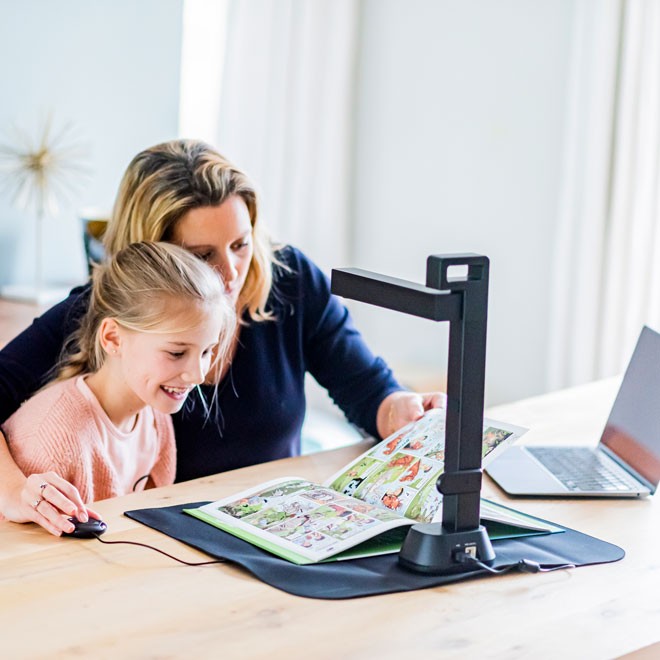 Document camera
IRIScan Desk 6 Pro
High-quality Scanning Technology: The IRIScan Desk 6 Pro features a 13-megapixel camera up to 21 MB, delivering impressive results with a maximum resolution of 4160 x 3120 pixels.

Lightning-Fast Scanning Speed: With a scanning speed of less than 1 second per A3 page in color mode, the IRIScan Desk 6 Pro is a game-changer for those who need to digitize large amounts of documents quickly. This makes it perfect for busy offices, schools, libraries, and other institutions that handle a high volume of paperwork daily

Multi-Format Output: The IRIScan Desk 6 Pro offers a range of output formats, including JPG, PDF (image), PDF (searchable), PDF (text), Word, Txt, Excel, EPUB (E-book), MP3, and WAV.

Versatile and Compatible: Whether you are working remotely or in the office, the IRIScan Desk 6 Pro is fully compatible with Zoom, Teams, Skype, and Google. This makes it an ideal choice for professionals in industries such as logistics, real estate, healthcare, insurance, and finance who need to conduct remote sessions and distance learning sessions with ease
Express Delivery
2-3 days
30 Days
Money-back Guarantee
2 years
hardware warranty
High definition !
This versatile document scanner features an HD lens along with a bulb-in to catch even the smaller details. With these features, web turtorials can be created as well as unboxing videos or online demos for an efficient and comfortable remote audience experience!
1D and 2D Barcode Recognition !
With 1D and 2D barcode recognition, IRIScan Desk 6 Pro allows user to track shipping notes, bull of lading, contracts, official document, and export barcodes values along with their JPG images. This document scammer is the only one amongst competitor (Czur, Brother, Epson, Fujitsu, Xerox, Visioneer, Penpower, Ambir, Avision, Panasonic or Kodak) to extract barcode metadata values on the spot!
Help dyslexic people to improve their reading disability !
IRIScan Desk is the ideal reading aid for dyslexic people. Thanks to the unique Text to Speech technology. It will read about any document (Microsoft Word, PDF, text files, web pages, or scanned documents) word by word! It allows you to read and listen in parallel word by word to any document. As such this tool is ideal for language work and any other work requiring extensive reading use.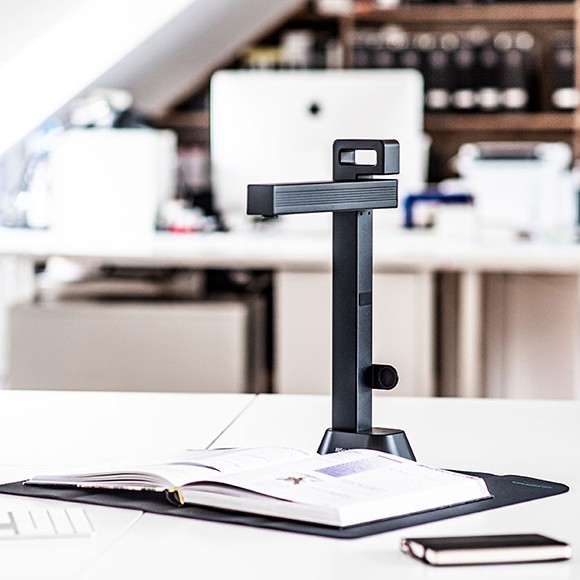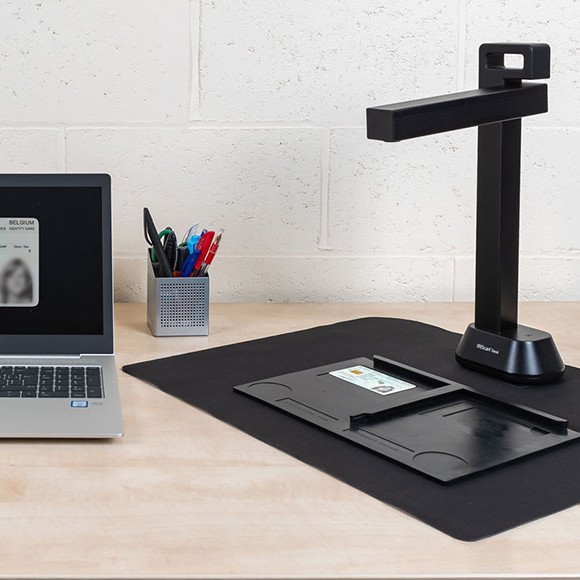 Elected BEST Document scanner & overhead book scanner by PCMAG USA
IRIScan Desk 6 Pro will definitively help you get there. With its exclusive IRIS design, users can expect unsurpassed versality. Incredible features such as innovative Artificial Intelligence (AI) and help video capabilities make it most efficient A3 document scanning solution on the market!
OCR leader and World-Class integration
The IRIScan Desk 6 Pro seamlessly integrates with the latest IRIS OCR engine. This powerful user interface converts scanned documents into searchable files. It supports the following formats: Searchable PDF, Image PDF; Text PDF, Texti Word, Excel, JPG, MP3 and WAV. You can even listen to documents!
Quick reference guide
| | |
| --- | --- |
| Product name | IRIScan™ Desk 6 Pro |
| SKU | 462992 |
| EAN code | 5420079900974 |
| UPC-A code | 765010767953 |
| Custom code | 8471906 |
Box Information
| | |
| --- | --- |
| Box Size (H x L x D): | 13 x 49 x 15 cm / 5.1 x 19.3 x 5.9 in |
| Box Weight Around: | 1.47 kg / 3.24 lbs |
| Box languages: | Arabic, Dutch, English, French, German, Italian, Portuguese, Simplified Chinese, Spanish |
| Box content: | Camera Scanner, USB cable, ScanPad, Getting started guide, External USB capture button |
Scanner specifications
Scanning technology:
13-Megapixel CMOS Sensor – 21 MB extrapolated
Max resolution:
4160 x 3120 pixels (13MP)
Max Document size :
420 x 297 mm (A3) or 16.5 x 11.6 in.
Scanning speed:
Less than 1 second scan per A3 (11x17 in) page in color mode
Lens:
Fixed focus
Video Record Resolution:
2048 x 1536 (3 MP) / 1920 x 1080 (Full HD 1080) / 1600 x 1200 (UXGA) / 1280x960 (960P)
Built-in LED Lights:
4 pcs
Output resolution:
300 DPI
Output level:
Color / Black & White / Grayscale
Interface/drivers:
USB 2.0 Type B x 1 (For PC Connection)
USB 2.0 Type-A x 1:
(For USB Extension)
Power supply 5V by USB powered
Output formats Document:
JPG, PDF (Image), PDF (Searchable), PDF (Text), Word, Txt, Excel, EPUB (E-book), MP3, WAV.
Product Dimensions (H x L x D):
- Folded size: 396 x 120 x 90 mm / (15.5 x 4.72 x 3.54 In.)
- Working size: 396 x 120 x 282 mm / (15.5 x 4.72 x 11.1 In.)
Weight
1.15kg / 2.53 lbs
Daily scanning volume Up to
5000 pages
Fusce vitae nibh mi. Integer posuere, libero et ullamcorper facilisis, enim eros tincidunt orci, eget vestibulum sapien nisi ut leo. Cras finibus vel est ut mollis. Donec luctus condimentum ante et euismod.
Pellentesque habitant morbi tristique senectus et netus et malesuada fames ac turpis egestas. Suspendisse eget facilisis odio. Duis sodales augue eu tincidunt faucibus. Etiam justo ligula, placerat ac augue id, volutpat porta dui.
Anna Kowalsky
- April 3, 2019
Sed id tincidunt sapien. Pellentesque cursus accumsan tellus, nec ultricies nulla sollicitudin eget. Donec feugiat orci vestibulum porttitor sagittis.
Peter Wargner
- April 3, 2019