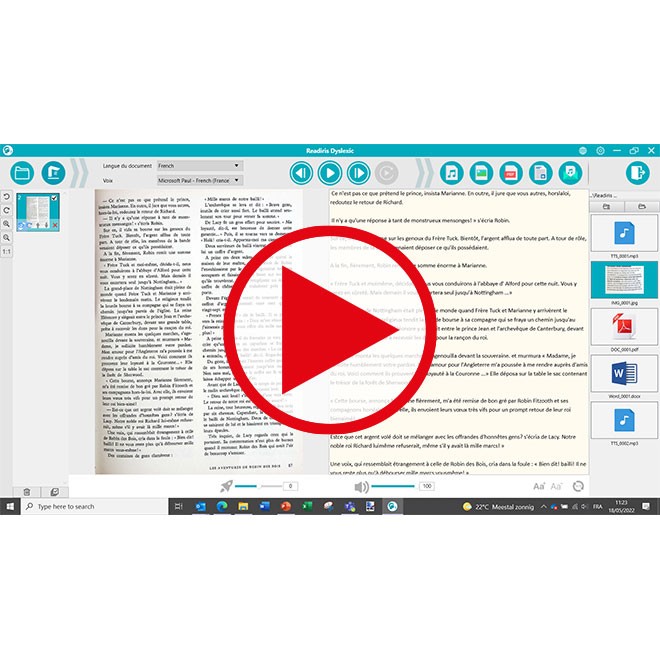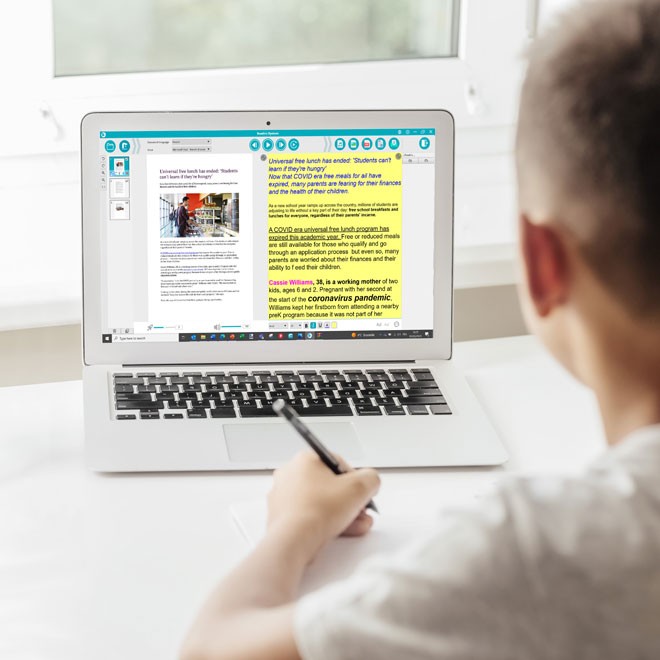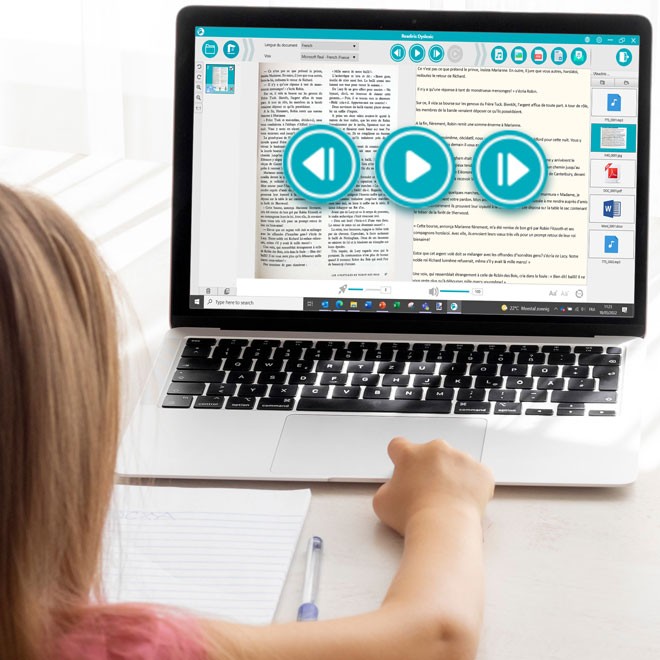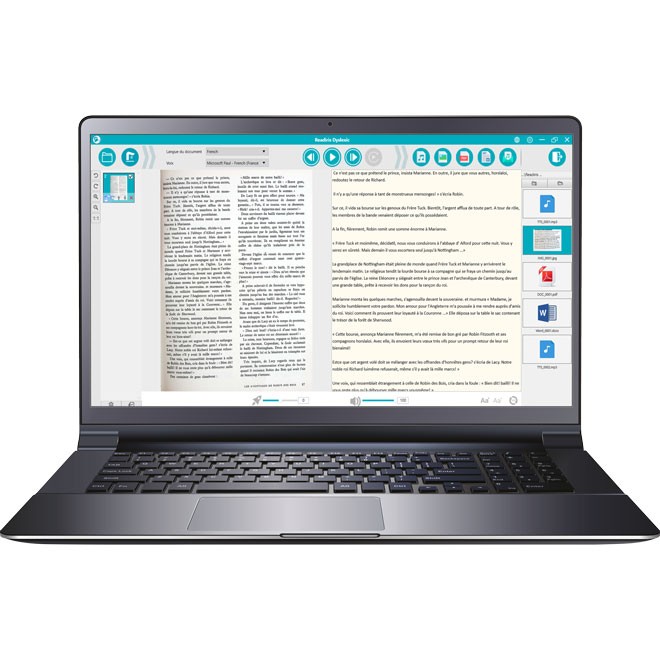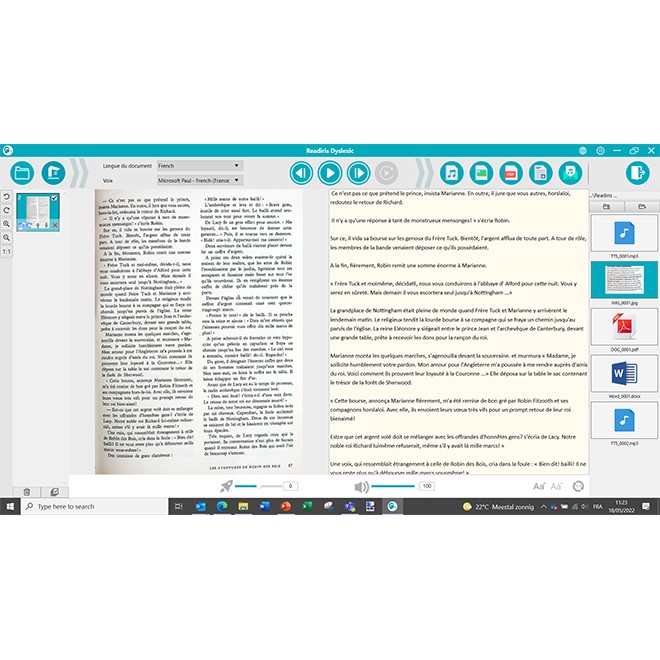 PDF & OCR software
Readiris Dyslexic 2.0
Intuitive, friendly & simple user interface for people with dyslexia

Ability to read loud all types of digital files, documents or books

Option to hide or enlarge both screens—both the original scan and the text screen, which is then editable - This prevents confusion and provides better focus, as opposed to displaying both screens simultaneously

Zoom in/out on the text for better readability

Adjust the font, the size, the color, and even the background color of the text – also for better readability, adapted to each specific personal needs for better reading It is also possible to edit the text itself

Read aloud entire sentence or repeated words up to your choice

Word-by-word reading is also allowed

Each word is highlighted in the text as it is read aloud—this is what we call "word by word"—in order to help improve diction

Read with your pace, go faster or slower, depending on your own setting

Reading speed and volume are both manually adaptable and will be saved as set in the created audio format (WAV or MP3)

Compatible with all Microsoft text-to-speech languages

Recognizes up to 138 languages

Easy multiple output formats possible (DOCX – JPEG – MP3 - WAV - PDF) and send directly via Email

Readiris Dyslexic 2.0 is only available for Windows
Download delivery
Instantaneous
30 Days
Money-back Guarantee
Lifetime License
Only for Windows
Text to speech with adaptive speed
Experience the convenience of text-to-speech technology with adaptive speed. Our advanced solution intelligently adjusts the speech rate to match your preferred pace, providing a natural and comfortable listening experience. Whether you're multitasking or prefer auditory learning, our tool ensures accurate and clear spoken content. Enhance accessibility, productivity, and convenience by harnessing the power of text to speech with adaptive speed, opening up a world of effortless information consumption.
Repeat words & text
Effortlessly repeat words and text with our versatile tool. Whether you need to emphasize key points, practice pronunciation, or create engaging presentations, our solution simplifies the process. Repeat words or entire sections seamlessly, adjusting speed and intervals to suit your needs. Enhance learning, improve communication, and unleash your creativity by harnessing the power of repeating words and text, empowering you to make a lasting impact with your content.
Export to PDF / Word / Mail / MP3
Efficiently export your content to various formats. Convert to PDF for professional document sharing, Word for easy editing, Mail for quick sending, or MP3 for audio playback. Enjoy seamless versatility and compatibility with our export options, empowering you to access and share your content in the most suitable format for your needs.
Simplified navigation
Enjoy simplified navigation with our user-friendly interface. Effortlessly explore features, menus, and settings, enabling smooth and intuitive interaction. Find what you need quickly, enhancing productivity and efficiency. Whether you're a novice or an experienced user, our simplified navigation ensures a seamless and enjoyable experience. Streamline your workflow and optimize your time with our intuitive interface designed for effortless navigation.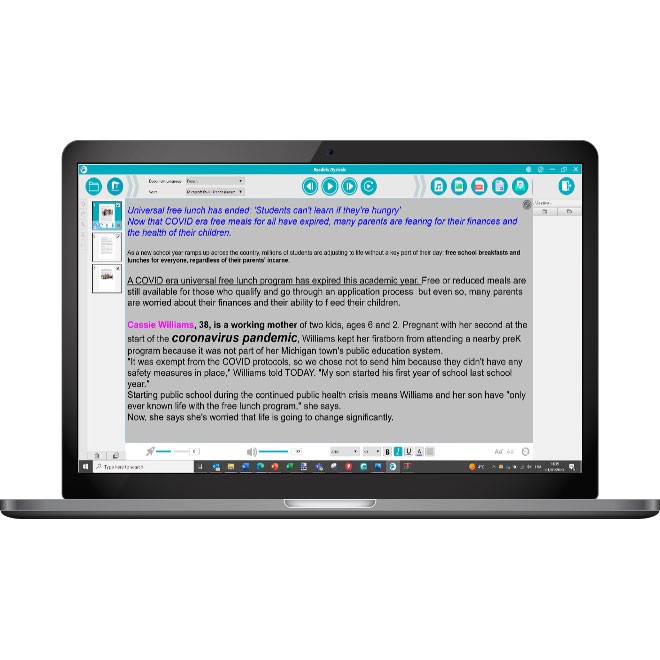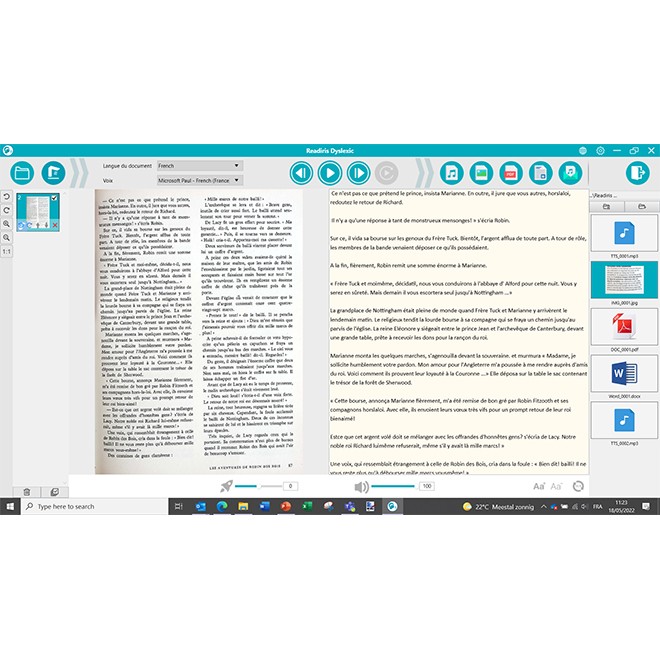 Editable text
Unlock the power of editable text and take control of your content. Easily modify and update text with simplicity and precision. Make changes, corrections, or additions effortlessly, saving time and ensuring accuracy. From documents to digital communications, our solution empowers you to adapt and refine your text seamlessly. Enjoy the flexibility and convenience of editable text, empowering you to create, collaborate, and communicate with confidence.
Change the fond and background color
Customize your visual experience by effortlessly changing the font and background colors. Personalize your content, improve readability, and add your personal touch to documents and designs. Enjoy the flexibility and creative freedom of adjusting the font and background colors to suit your preferences and enhance your overall viewing experience.
Product name
Readiris™ Dyslexic 2.0
SKU 1
463311
7 interface languages
English – French – German – Spanish Italian – Dutch - Chinese.
Supported OCR languages
138 including Asian, Arabic, Cyrillic and Hebrew (complete list available at www.irislink.com)
Windows® software

Processor: 1.5 Ghz or higher (Intel or AMD)
Graphics card: Intel® Standard Graphics or higher graphics cards with 512 VRAM
RAM: 4GB or 6GB
Hard disk space: 4 GB
Windows® operating system: Windows® 10 or Windows® 11
Internet connection for software downloading and activation
Fusce vitae nibh mi. Integer posuere, libero et ullamcorper facilisis, enim eros tincidunt orci, eget vestibulum sapien nisi ut leo. Cras finibus vel est ut mollis. Donec luctus condimentum ante et euismod.
Pellentesque habitant morbi tristique senectus et netus et malesuada fames ac turpis egestas. Suspendisse eget facilisis odio. Duis sodales augue eu tincidunt faucibus. Etiam justo ligula, placerat ac augue id, volutpat porta dui.
Anna Kowalsky
- April 3, 2019
Sed id tincidunt sapien. Pellentesque cursus accumsan tellus, nec ultricies nulla sollicitudin eget. Donec feugiat orci vestibulum porttitor sagittis.
Peter Wargner
- April 3, 2019