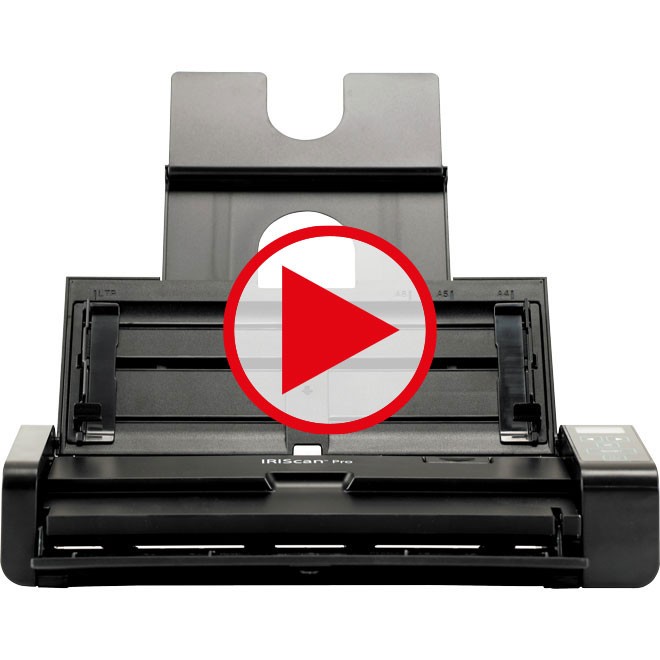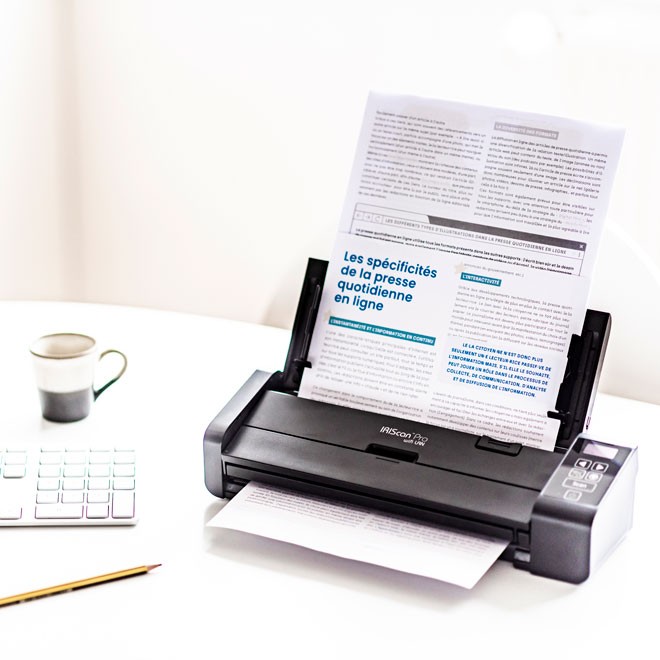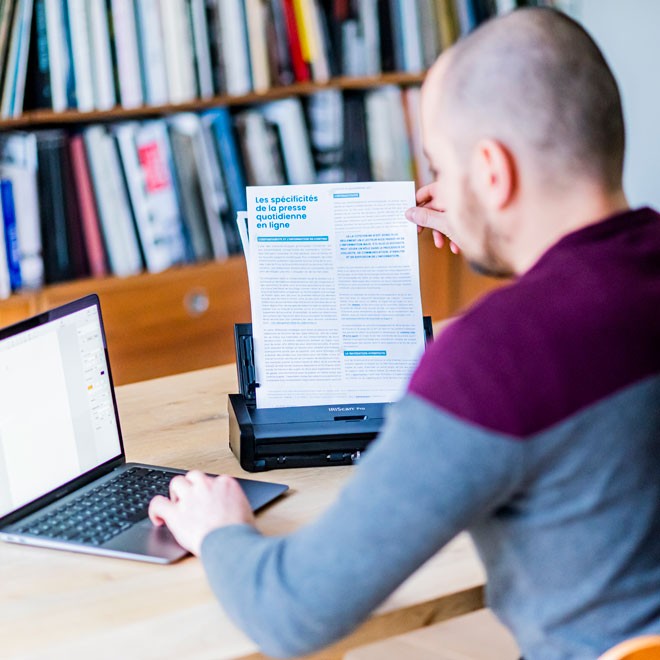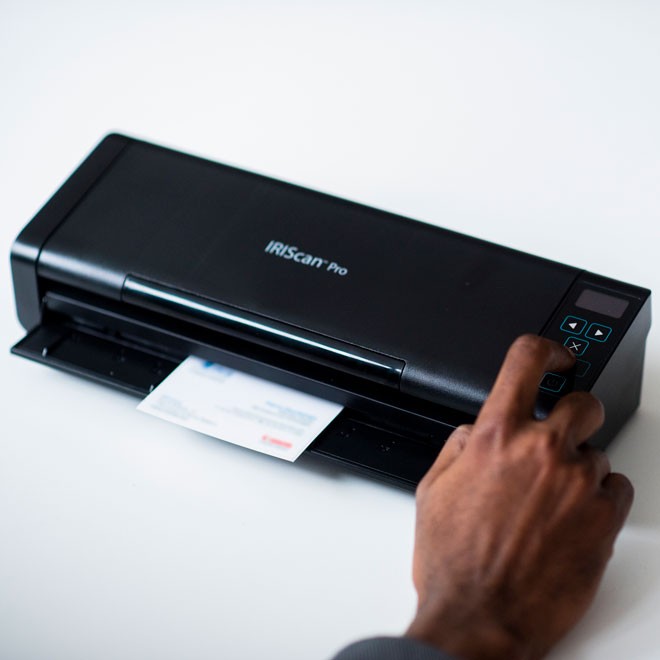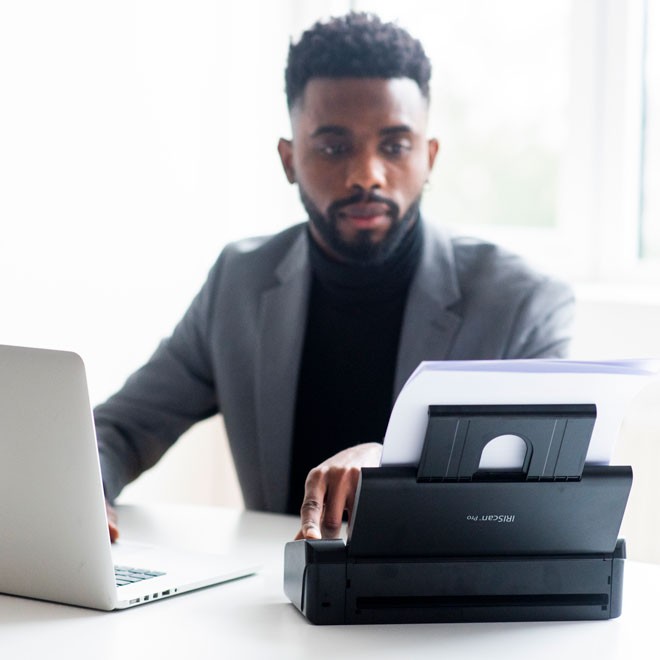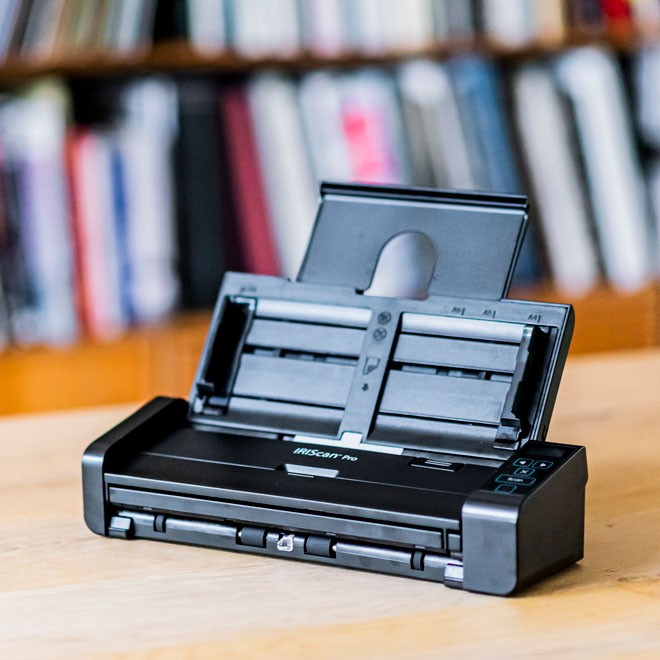 Portable scanners
IRIScan Pro 5 file
Streamline Your Workflow: Transform paper documents into digital files with ease. The IRIScan Pro 5 can convert a wide range of document types, from receipts and photos to business cards and reports, into searchable PDFs, JPGs, and more.

Scan Anything: With the IRIScan Pro 5, you can scan any type of document contracts, invoices, receipts, bills, business cards, and even plastic cards like ID and insurance cards - in a single click at a very high speed (23ppm).

Fast and Efficient: This scanner can handle both sides of a document at the same time, in color, at up to 23 pages per minute, with a 20 sheet automatic feeder. Get your scanning done quickly and efficiently.

Powerful Software: The IRIScan Pro 5 comes bundled with a powerful yet easy-to-use scanning software and a business card organizer.

Magic Button Scan Manager: Use the 9 Configuration Scan Button to quickly access your preferred settings and scan documents without having to change your settings each time.

Scan to Cloud Services: Share your files quickly and easily with SharePoint, Dropbox, Box, Google Drive, OneDrive, QuickBooks Online, Evernote, and more.

IRISmart File: Intelligent software for semi-automatic naming and classification of documents (electronic and paper). IRISmart File will help you carry out long, slow everyday administrative tasks quicker than ever before. Anyone who wants to file a large amount of paper or electronic files into ordered folders quickly and efficiently will find this intelligent software to be a major ally
Express Delivery
2-3 days
30 Days
Money-back Guarantee
2 years
hardware warranty
Scan in no time
Scan 23 pages in just one minute! With this powerful duplex desktop scanner, you can scan your documents at top speed. IRIScany Pro 5 scans 23 sheets per minute (46 images per minute in duplex mode). In the blink of an eye, your invoices, receipts, and other documents witt be scanned into POF or MS Office (Word, Excel, etc.) format and then saved directly to your cloud platform or DMS.
PDF Creation Tool
Create compressed and indexed PDFs with the press Of a button IRIScan Pro 5 is the ultimate PDF creation tool that lets you scan your documents into PDF or multi-page PDF format.
Highly reliable scan
Avoid paper jams and errors with the ultrasonic sensor! This scanner is equipped with an ultrasonic sensor that detects when two pages pass through simultaneously. This unique technology allows the scanner to identify le feeding (Often due to stapled documents), even when pages are of different thicknesses. The scanning process is then suspended temporarity to ensure its reliabitity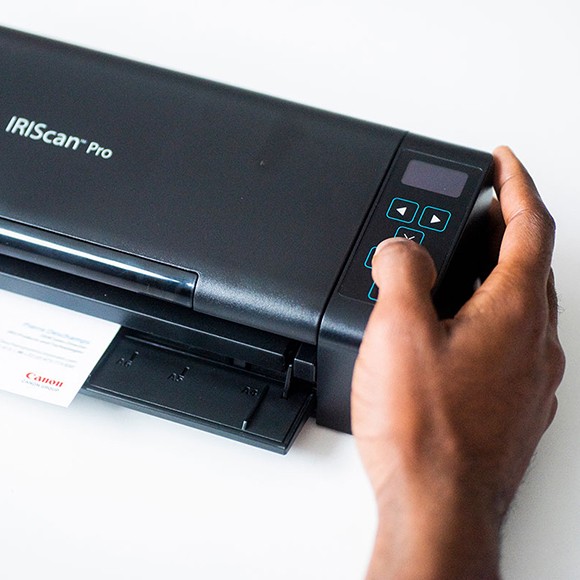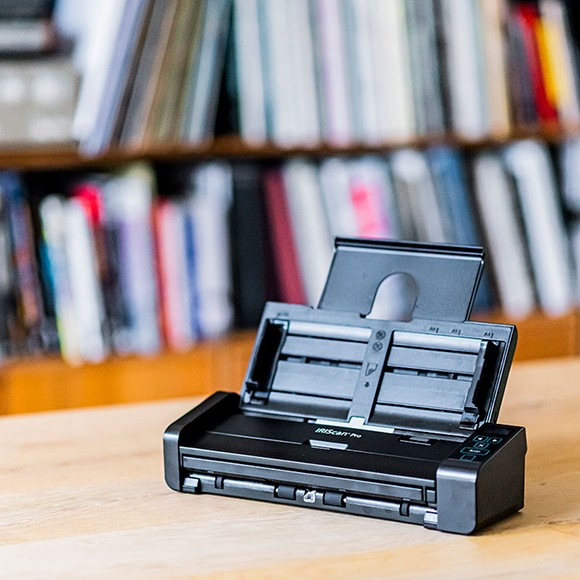 Your documents are read aloud to you
This duplex desktop scanner transforms your documents... into audio files you can listen to anywhere! With Readiris™ Corporate advanced conversion (OCR) software, any scanned PDF file, image, or document can be converted into .WAV format. This unique feature allows you to listen to any text, even on the go. Imagine all the time you will save when catching up on meeting minutes. It can even assist with learning for people with learning disabilities (ex. dyslexia).
IRISmart File Intelligent software for semi-automatic naming and classification of documents
With the IRIScan™ Pro 5 File you will get the powerful IRISmart File software. Ideal for freelancers, microbusinesses and SME, IRISmart File will help you carry out long, slow everyday administrative tasks quicker than ever before. Anyone who wants to file a large amount of paper or electronic files into ordered folders quickly and efficiently will find this intelligent software to be a major ally. Whether you manage contracts, bids, medical certificates, minutes, legal reports or architectural plans – all of your documents are sorted semi-automatically on a hyper-structured, consistent basis, ready to be shared easily and retrieved quickly!
Quick reference guide
| | |
| --- | --- |
| Product name | IRIScan™ Pro 5 File |
| SKU | 459037 |
| EAN code | 5420079900738 |
| UPC-A code | 765010741854 |
| Custom code | 847190 |
Box Information
| | |
| --- | --- |
| Box Size (H x L x D): | 17,2 x 37,7 x 17,5 cm (6,69 x 14,56 x 6.70 in) |
| Box Weight: | Around 2.5 kg (4,40 lbs) |
| Box languages: | Arabic, Dutch, English, French, German, Italian, Portuguese, Russian, Spanish |
| Box content | Scanner • USB cable • Software suite • Power supply • |
Scanner specifications
Document feeding:
ADF 20-page capacity
Scanning technology:
Contact image sensor (CIS)
Document size:
Max : 21,6 x 35,6 cm (8,5 x 14 in)
Min : 5 x 5 cm (2 x 2 in)
Scanning speed
23 PPM / 46 IPM in B/W @200 DPI /A4
17 PPM / 34 IPM in Color @ 300 DPI / A4
Paper Thickness:
27~ 413g/m² (7~110lb)
Long page mode:
3m ( 118")
Sensor:
Ultrasonic double grabbing/paper jam technology
Optical resolution
600dpi
Output resolution:
75, 100, 150, 200, 300, 400, and 600dpi
Output level
B&W, grayscale, 24-bit color
Interface/drivers
USB 2.0 / TWAIN / WIA
Power supply
Input : 100-240 VAC, 50/60 Hz
Output : 24 V; 1,5 A
Power consumption
Operation: 24W / Ready: 7.5W / Sleep: 2.5W Off: 0.32W
Environmental factors
Operating temperature : 10 to 35°C (50 to 95°F)
Operating humidity : 10 to 85%
Output formats
BMP, PNG, GIF, JPEG, Single-Page PDF, Multi-Page PDF, Multi-TIFF, TIFF, RTF, TXT, OCR, XPS, DOC, XLS, PPT, DOCS, XLSX, PPTX, HTML
Dimensions (H x L x D)
10,4 x 29,9 x 7,4 cm (4 x 11,6 x 2,9 in)
Weight
1,5 kg (2,20 lbs)
Recommended daily scanning volume
1000 pages
Minimum requirements
Software suite for Windows®:
CPU: Intel® Core 2 Duo or higher Ram memory: 2GB
Hard disk space: 1.5GB
USB: USB2.0 Port (USB 1.1 supported)
Windows® Operating System: Windows® 7, 8,10
Software suite for Mac OS®:
Mac® OS 10.11 and above with Intel chip or M1 chip
5GB ram
Hard disk space: 1.5GB
Fusce vitae nibh mi. Integer posuere, libero et ullamcorper facilisis, enim eros tincidunt orci, eget vestibulum sapien nisi ut leo. Cras finibus vel est ut mollis. Donec luctus condimentum ante et euismod.
Pellentesque habitant morbi tristique senectus et netus et malesuada fames ac turpis egestas. Suspendisse eget facilisis odio. Duis sodales augue eu tincidunt faucibus. Etiam justo ligula, placerat ac augue id, volutpat porta dui.
Anna Kowalsky
- April 3, 2019
Sed id tincidunt sapien. Pellentesque cursus accumsan tellus, nec ultricies nulla sollicitudin eget. Donec feugiat orci vestibulum porttitor sagittis.
Peter Wargner
- April 3, 2019