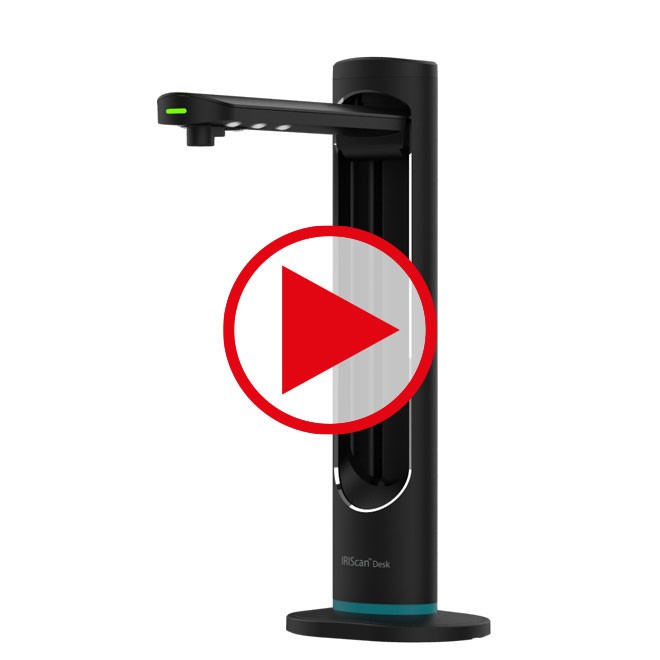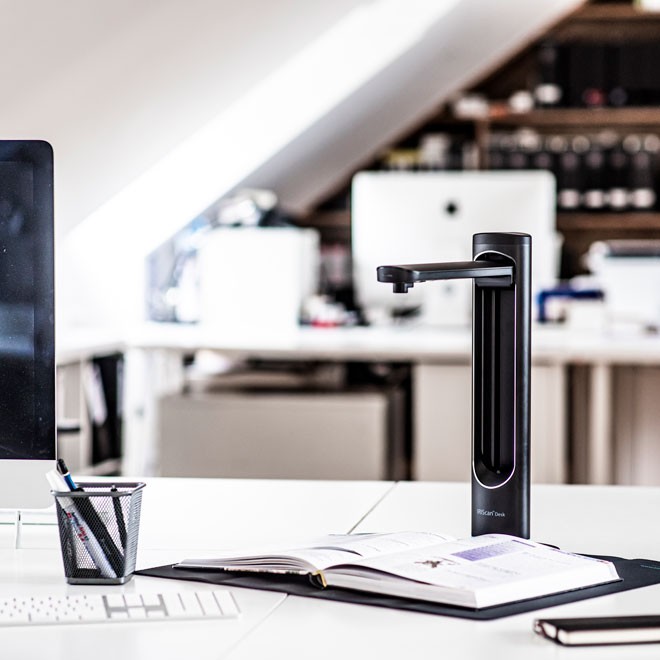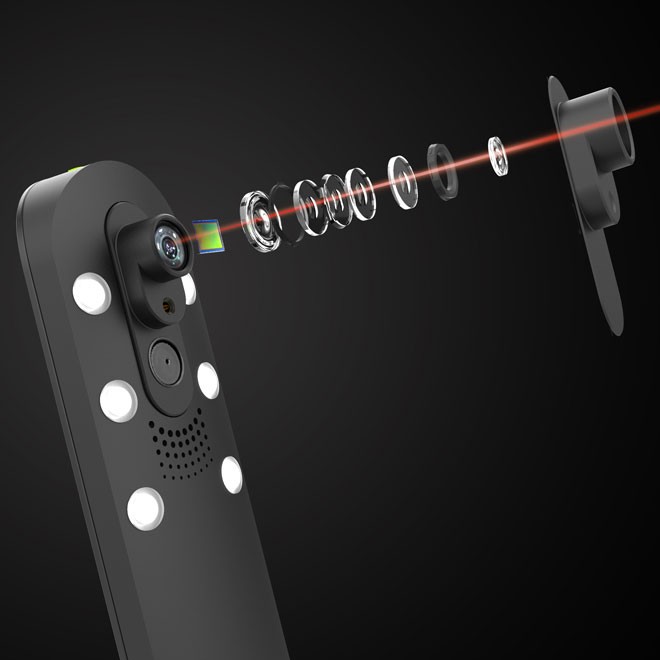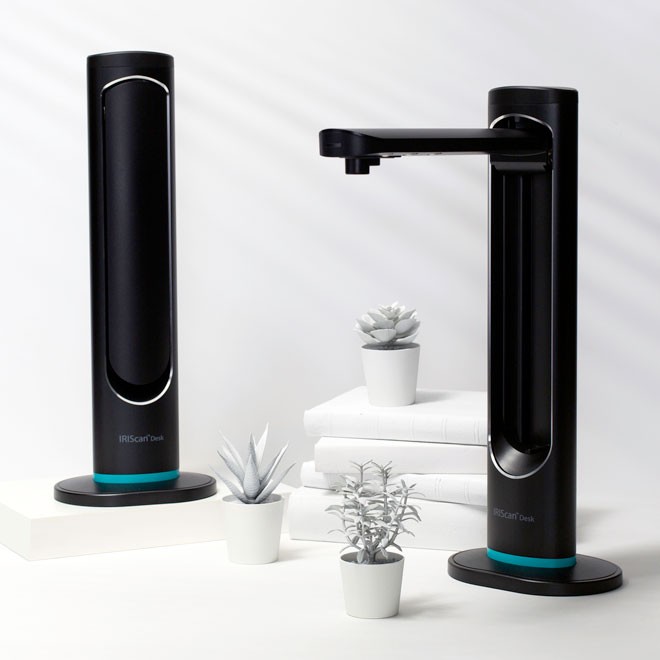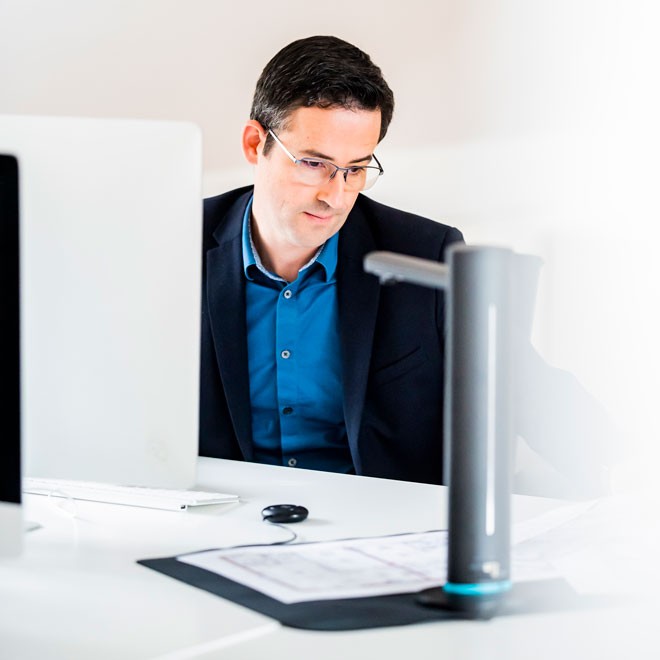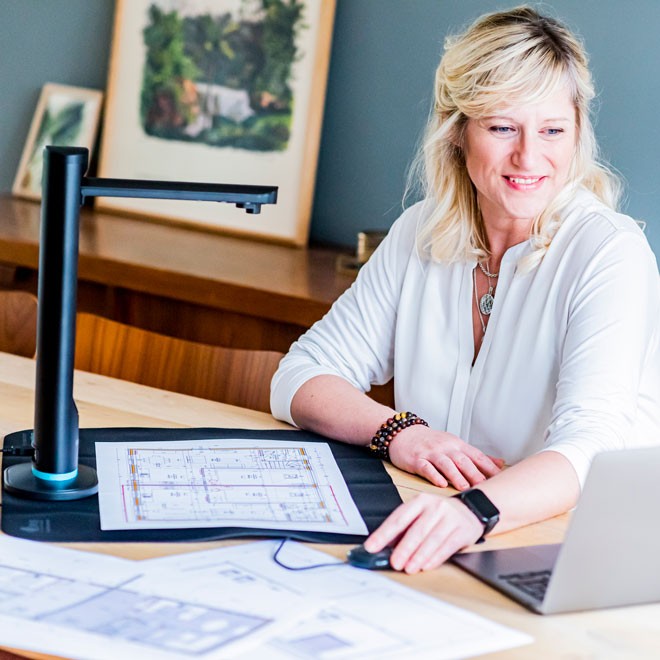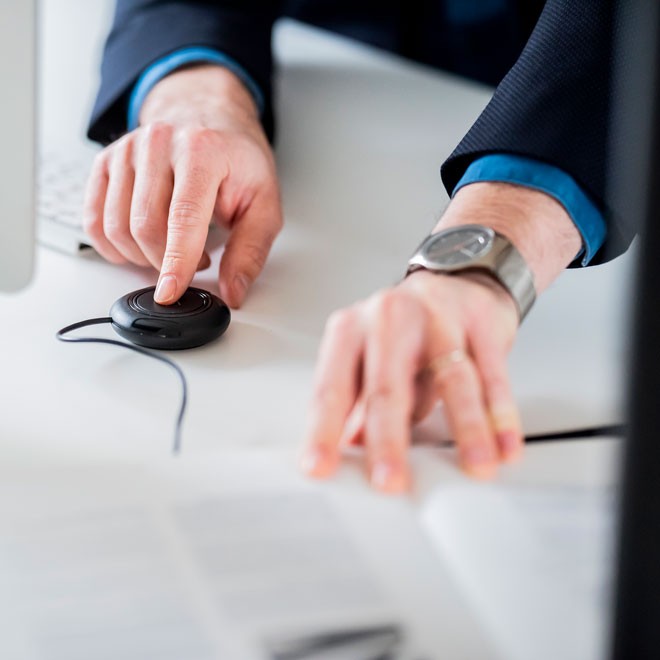 Document camera
IRIScan Desk 6 Business
State-of-the-Art Professional Document Scanner: The IRIScan Desk 6 Business is a powerful and versatile document scanner that digitizes books, magazines, and paper documents up to A3 size in just one second per page without tearing or unbinding. With its innovative AI technology for fingers removal, auto page-turn detection, and curvature flattening, it is the most powerful solution on the market.

Multiple Cropping Function: Save time when submitting expense reports with the IRIScan Desk 6 Business. Its automatic document detection feature allows for multiple small documents (receipts, sales slips, business cards) to be scanned at once. Just place them on the provided Scanpad and let the scanner do the rest.

Advanced Text-To-Speech Feature: The IRIScan Desk 6 Business is the ideal tool for Dyslexic people, thanks to its advanced Text To Speech feature that allows you to read and listen in parallel word by word any document. You can create MP3 or WAV audio files output formats to get text to speech capability, and it supports multiple formats like searchable PDF, image PDF, Text PDF, Text, Word, Excel, and JPG formats.

High-Quality Video Recording: With its dual lens capable of up to 32 MP extrapolated, along with an incorporated mic, the IRIScan Desk 6 Business allows you to create web tutorials, unboxing videos, or online demos at up to 30FPS for an efficient and comfortable remote audience experience. It is perfect for recording live projections, lesson explanations or any operations or demo.

Enhanced by Articial Intelligence: AI flattening, AI Auto Scan, AI Finger hiding: Innovative AI features that automatically correct distortions, optimize scanning settings, and hide fingers for clean and professional scans.
Express Delivery
2-3 days
30 Days
Money-back Guarantee
2 years
hardware warranty
Top IRIS Software Suite !
Along with the IRIScan Desk 6 Business dedicated software get on top your comprehensive IRIS productivity software's suite: Cardiris (PC) converts your business cards into an outlook contact. IRISmart File (PC) renames & files your documents in your file explorer automatically and Readiris PDF Reader (PC) offers you one place to read all your documents. It also works as a PDF manager from any format document.
Best out of Distance Learning & Virtual Classrooms
On top of that, it's a dual-lens of up to 32MP assembled along with an incorporated mic. It allow you to catch details, create web tutorials, create unboxing videos or online demos at up to 30FPS for an efficient and comfortable remote audience experience! Discover a new approach to the digitization of documents, books, and live demo videos. Fully complaint with Zoom, Team, Skype, or Google The IRIScan Desk 6 Business will improve your remote sessions and distance learning experience in comfort!
World Best A3 document & Book Scanner !
All books, magazines, and documents up to A3 can be scanned directly at speed down to less than a more 1sec/page without tearing or unbinding. Even multiple receipts or parking tickets can be scanned at once thanks to its multiple cropping function.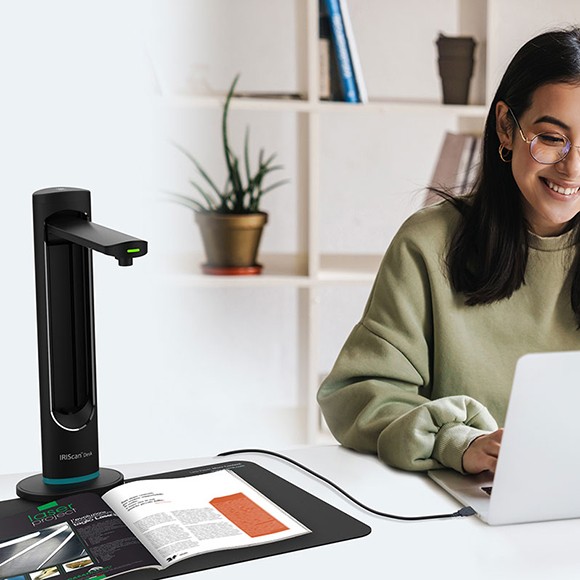 Automatic barcode extraction & PDF capabilities !
On top of being able to extract value and image of 10 to 20 barcode, IRIScan Desk 6 Business offer top natch PDF & OCR capabilities. IRIScan Desk 6 Business software integrates the latest IRIS PDF & OCR engine with a powerful use interface that convert scanned documents into searchable PDF, JPG to PDF. Text PDF, convert to Word, convert to Excel, JPG format, and even MP3 and WAV audio files' So listening to your document becomes a reality!
Quick reference guide
| | |
| --- | --- |
| Product name | IRIScan™ Desk 6 Business |
| SKU | 462496 |
| EAN code | 5420079901025 |
| UPC-A code | 765010770717 |
| Custom code | 847190 |
Box Information
| | |
| --- | --- |
| Box Size (H x L x D): | 14 x 40 x 14 cm / 5.5 x 15.74 x 5.5 in |
| Box Weight: | Around 1,37 kg (3.02 lbs) |
| Box languages: | Arabic, Dutch, English, French, German, Italian, Portuguese, Simplified Chinese, Spanish |
| Box content | Camera Scanner, USB Cable, Scan Pad, Getting Started Guide, External USB capture foot pedal button, External USB capture hand button, AC power adapter |
Scanner specifications
Scanning technology:
2 x 16 Megapixels - 2 x CMOS Sensor – 32 MP extrapolation
Max resolution:
4608 x 3456 pixels
Max Document size:
420 x 297 mm (A3) or 16.5 x 11.6 in.
Scanning speed
Less than 1 second scan per A3 (11x17 in) page in color mode
Dual Lens:
Fixed focus
Video Record Resolution:
2048 x 1536 (3MP) / 1920 x 1080 (Full HD 1080) / 1600 x 1200 (UXGA) / 1280 x 960 (960P)
Built-in LED Lights
6 pcs
Output resolution:
300 DPI
Output level:
Color / Balck & White / Grayscale
Interface/drivers
USB 2.0 High Speed
Power supply:
5V / 2A by DC-IN adapter
Output formats:
JPG, PDF (Image), PDF (Searchable), PDF (Text), Word, Txt, Excel, EPUB (E-book), MP3, WAV.
Dimensions (H x L x D)
Folded size: 110 x 150 x 402 mm / 4.3 x 5.9 x 15.8 In.
307 x 150 x 402 mm / 12 x 5.9 x 15.8 In.
Weight
1,2 kg / 2.65 lbs
Recommended daily scanning
Up to 5000 pages daily volume
Minimum requirements
| | |
| --- | --- |
| Windows® Operating System: | Windows® 10, 11 |
| Mac® OS Operating System: | 10.15 and above with Intel chip or Apple Arm processors |
| CPU: Intel® | Core 2 Duo or higher |
| Graphical Card: | Intel® Standard Graphics or higher Graphics cards with 512 VRAM |
| Ram memory: | 4GB |
| Hard disk space: | 2GB |
| USB: | USB 2.0 Port or 3.0 Port |
Fusce vitae nibh mi. Integer posuere, libero et ullamcorper facilisis, enim eros tincidunt orci, eget vestibulum sapien nisi ut leo. Cras finibus vel est ut mollis. Donec luctus condimentum ante et euismod.
Pellentesque habitant morbi tristique senectus et netus et malesuada fames ac turpis egestas. Suspendisse eget facilisis odio. Duis sodales augue eu tincidunt faucibus. Etiam justo ligula, placerat ac augue id, volutpat porta dui.
Anna Kowalsky
- April 3, 2019
Sed id tincidunt sapien. Pellentesque cursus accumsan tellus, nec ultricies nulla sollicitudin eget. Donec feugiat orci vestibulum porttitor sagittis.
Peter Wargner
- April 3, 2019