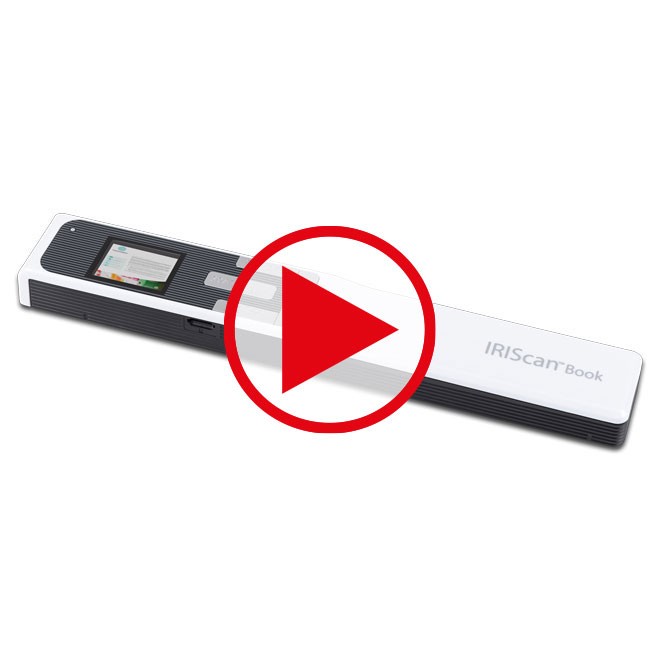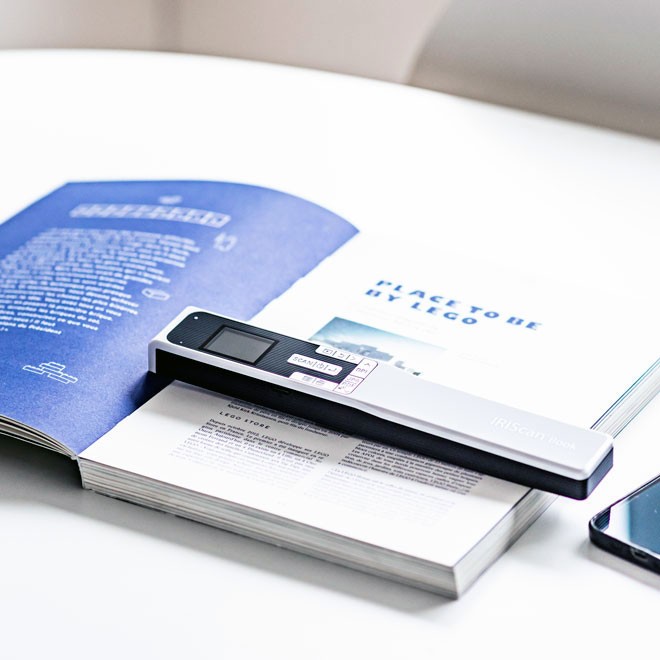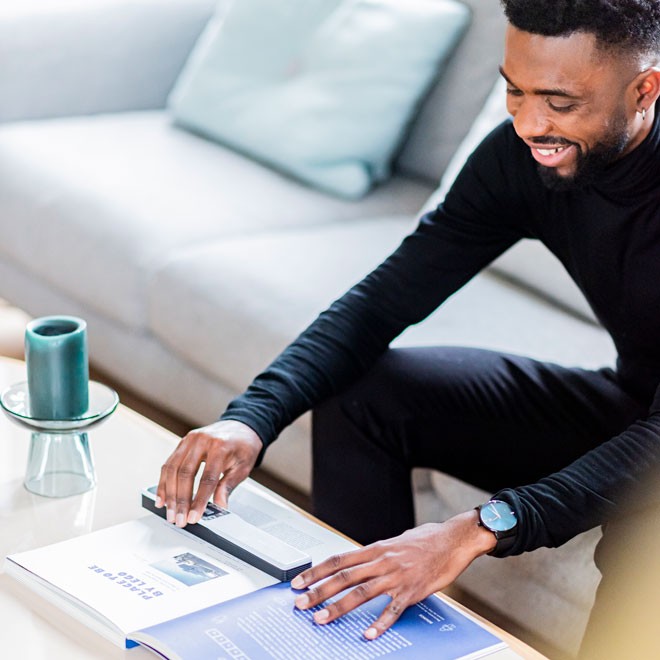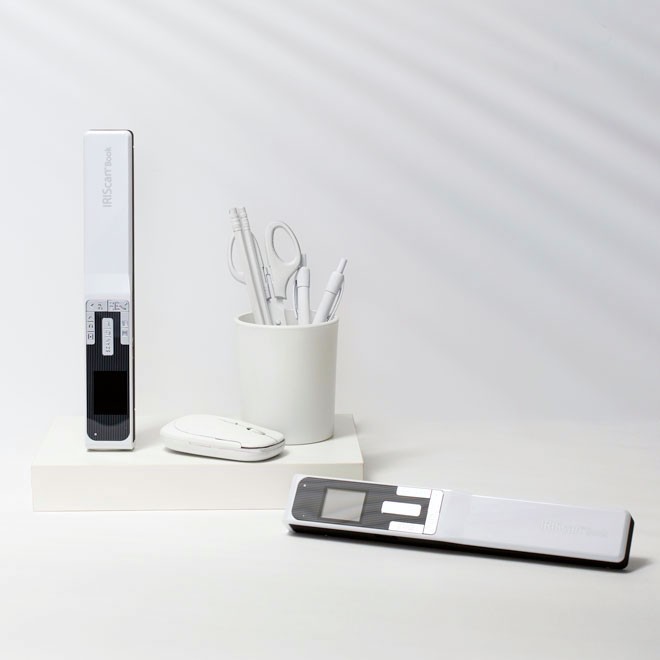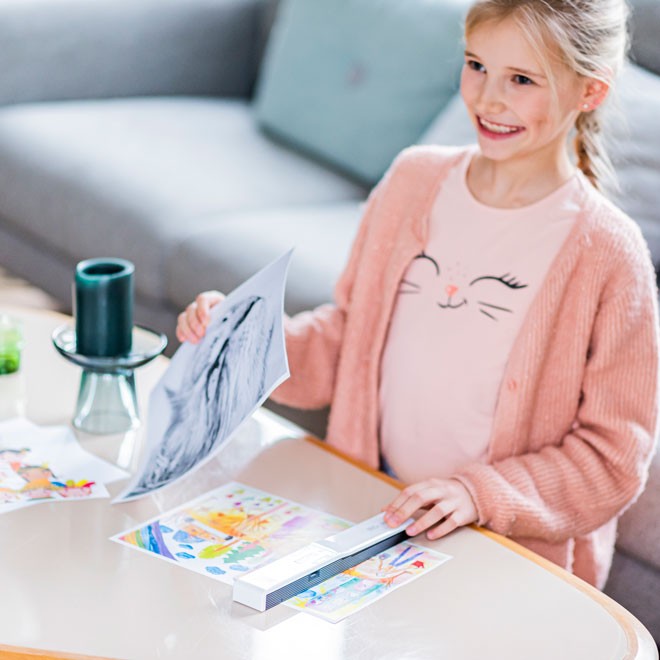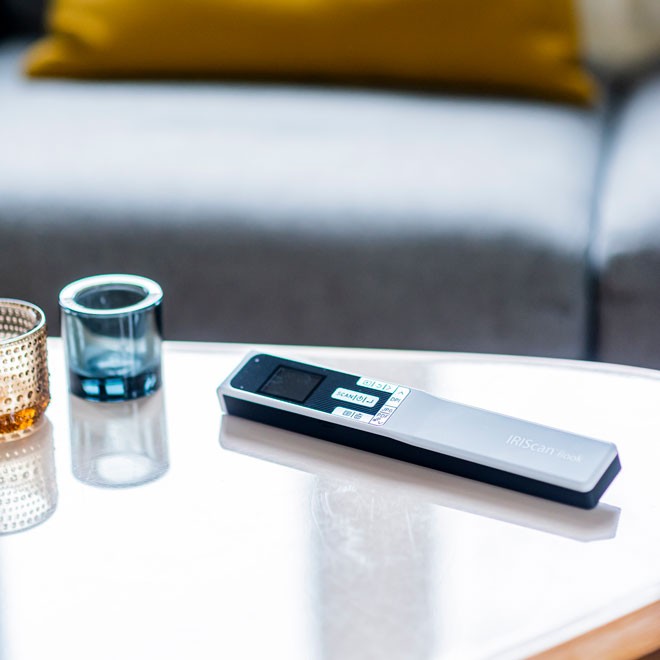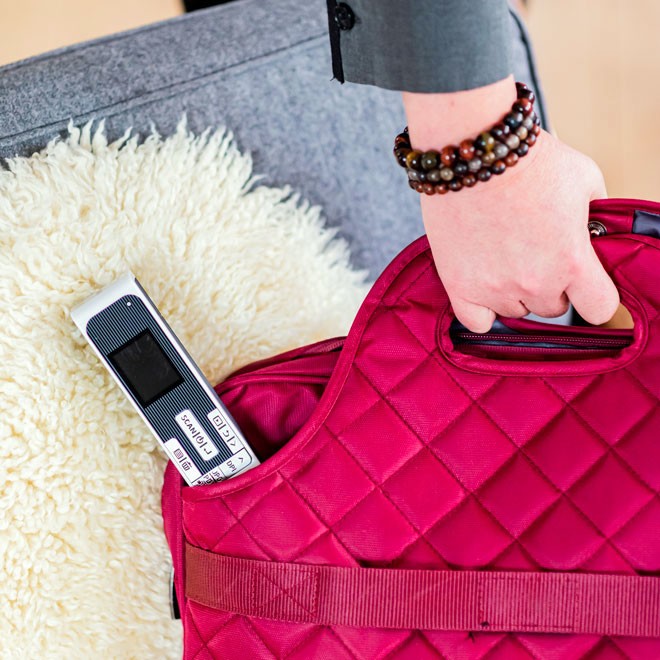 Hand held scanners
IRIScan Book 5
Built-in long-life lithium rechargeable battery: With a 3.7V lithium rechargeable battery built-in, the IRIScan Book 5 is always ready to go, no matter where you are. This makes it an ideal choice for use at home or even on the road, as it works completely autonomously, without cables or a computer.

High brightness 3.8 cm color display: The IRIScan Book 5 comes with a high brightness 3.8 cm color display, which allows you to get an instant overview of your scans. This means that you can scan successfully, even without a computer.

SD card slot: With a built-in SD card slot, you can easily insert the included MicroSD card to store your scans, making it easy to transfer your scans to your computer or mobile device.

USB port: The IRIScan Book 5 comes with a USB port, which allows you to easily charge the device or download files. This makes it easy to use and versatile, no matter where you are.

Easy buttons for configuration: The IRIScan Book 5 comes with easy buttons for configuration, including resolution (up to 1200 dpi), format (JPG/PDF/multi-PDF), color/black and white mode, and more. This means that you can easily adjust the settings to suit your needs, no matter what you are scanning.
Express Delivery
2-3 days
30 Days
Money-back Guarantee
2 years
hardware warranty
Scan in a flash without ever detaching a page !
This book scanner allows you to scan all kinds Of documents, even bound documents, even bound: books, newspapers, syllabus, magazines. Scanning is done with a simple gesture! Slide this book Scanner onto the page to be scanned: in just 4 to 9 seconds
Convert your documents into editale files (Word, Excel,...)
IRIScan Book 5 comes with a full-featured OCR software (Readiris) that allows you to convert text areas of scanned documents into editabte Word, Excel or PDF files. Your files are converted and ready to be edited and archived.
Use anytime anywhere !
IRIScan Book 5 is an extremely compact and lightweight scanner, which can be easily slipped into a bag and can be taken anywhere. Powered by a powerful lithium-ion battery rechargeable via USB and supplied with a MicroSD card, this book scanner works everywhere without being connected to a to a computer!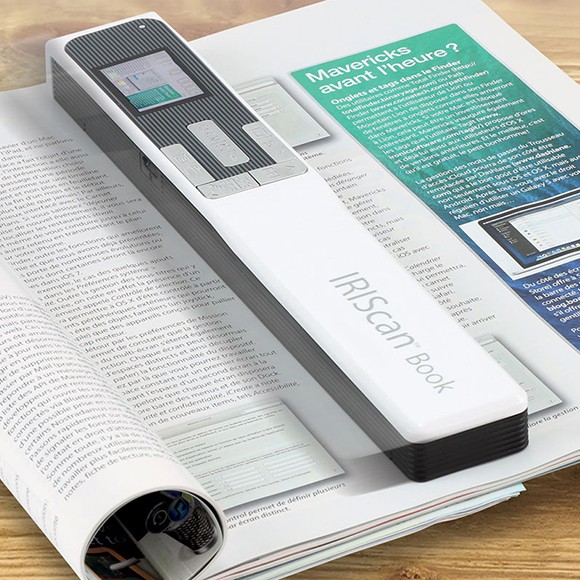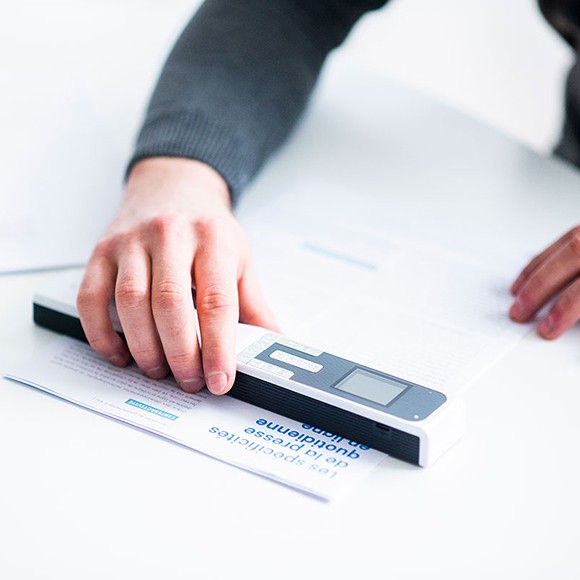 Creating indexed pdf files
The included Readiris software allows you to convert scanned documents into indexed PDF files thanks to the powerful OCR engine that converts the image text into indexed text
Quick reference guide
| | |
| --- | --- |
| Product name | IRIScan™ Book 5 |
| SKU | 458739 |
| SKU AME | 458743 |
| EAN code | 5420079900103 |
| UPC-A code | 765010738915 |
| Custom code | 847190 |
Box Information
| | |
| --- | --- |
| Box Size (H x L x D): | 13,8 x 31,2 x 4,8 cm (5.43 x 12.28 x 1.88 in) |
| Box Weight: | 550 gr (19.4 oz) |
| Scanner size (H x L x D): | 2,2 x 25,9 x 3,8 cm (0.87 x 10.19 x 1.49 in) |
| Scanner weight: | 153gr (5.4 oz) |
| Box languages: | Arabic, Simplified Chinese, English, French, German, Italian, Portuguese, Russian, Spanish |
| Box content | IRIScan™ Book 5 scanner - Readiris Pro & IRISCompressor Pro software for PC & Mac available via download at www.irislink.com/start - One SD card - USB cable - Transport pouch. |
Scanner specifications
Image sensor:
Image sensor A4 color contact image sensor (CIS)
Resolution:
300/600/1200 dpi
Document size:
A4/letter (297 x 210 mm - 8.3 x 11.7 in / Landscape)
Scanning speed for A4 page
Color high resolution : 9 seconds
Black & white high resolution : 6 seconds
Color low resolution : 4 seconds
Black & white low resolution : 3 seconds
Capacity (A4 documents, based on 4 GB MicroSD™card. Depends on the content complexity):
1200 dpi color : 500 JPEG images
600 dpi color : 1000 JPEG images
300 dpi color : 2000 JPEG images
File format:
JPEG, PDF or Multi-page PDF
LCD:
1.5" Color with scanning status display/preview
USB port
Micro USB
External memory capacity:
MicroSD™ card / MicroSDHC™ card up to 32 GB
Battery type:
Built-in rechargeable Lithium battery/ 3.7 V
Battery life (scanning to MicroSD™ Card)
to 100 pages daily after recharging (A4, 300 dpi, color)
Minimum requirements
For Computer:
At least one USB port available.
No driver installation needed!
Software suite for Windows®:
Microsoft® Windows® 11,10, 8, 7
512MB RAM (1GB recommended).
1GB of available hard disk space.
Software suite for Mac OS®
Mac® OS 10.11 and above with Intel chip or M1 chip
512MB RAM (1GB recommended).
Minimum 1GB of available hard disk space.
State-of-the-art OCR software suite Readiris™ Pro & IRISCompressor™ Pro:
Convert any paper document, PDF,or image file into editable Office documents (Word, Excel®, Outlook®,Pages, Numbers and many others).
Worldwide IRIS OCR for Windows & Mac including Asian & Arabic languages.
Create hyper-compressed PDF files, ideal for indexing, archiving and sharing via email.
Fusce vitae nibh mi. Integer posuere, libero et ullamcorper facilisis, enim eros tincidunt orci, eget vestibulum sapien nisi ut leo. Cras finibus vel est ut mollis. Donec luctus condimentum ante et euismod.
Pellentesque habitant morbi tristique senectus et netus et malesuada fames ac turpis egestas. Suspendisse eget facilisis odio. Duis sodales augue eu tincidunt faucibus. Etiam justo ligula, placerat ac augue id, volutpat porta dui.
Anna Kowalsky
- April 3, 2019
Sed id tincidunt sapien. Pellentesque cursus accumsan tellus, nec ultricies nulla sollicitudin eget. Donec feugiat orci vestibulum porttitor sagittis.
Peter Wargner
- April 3, 2019