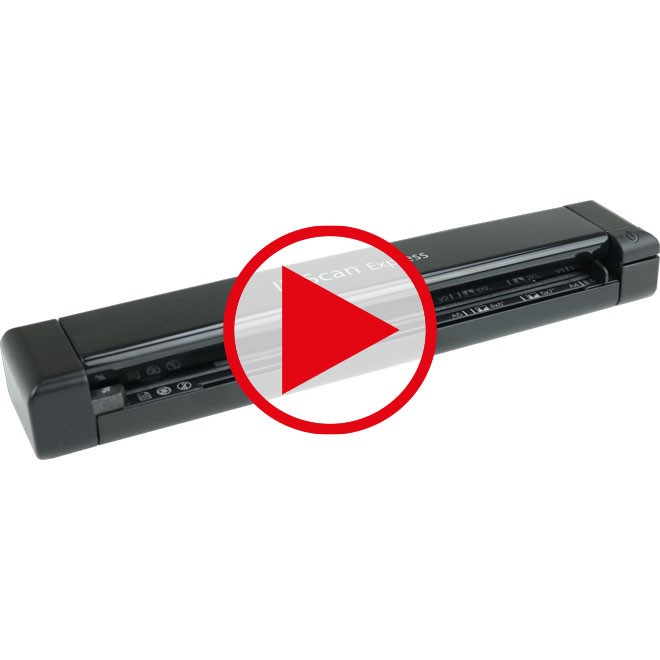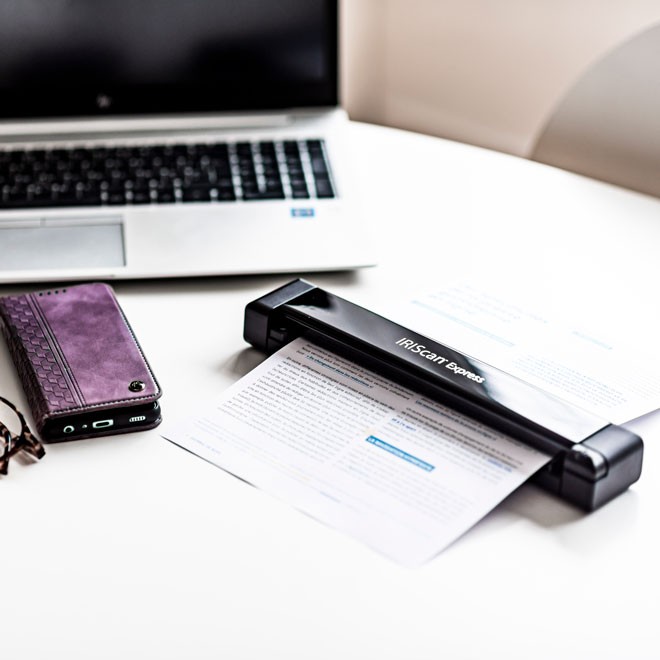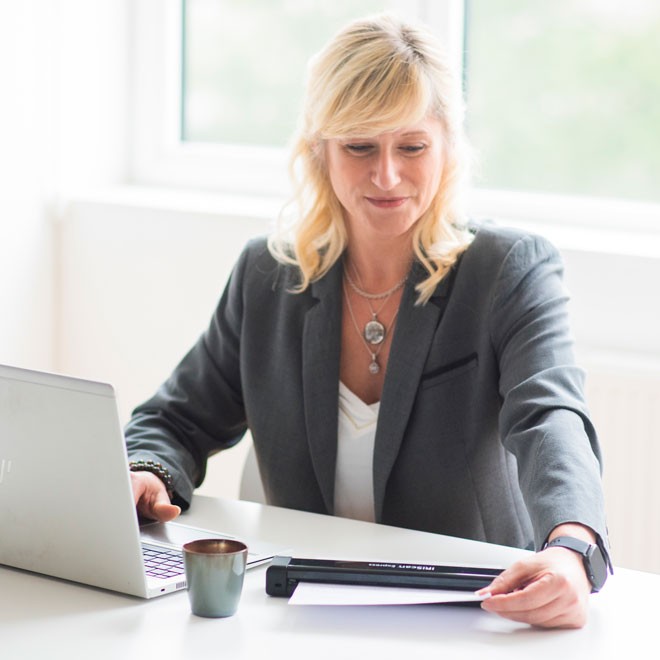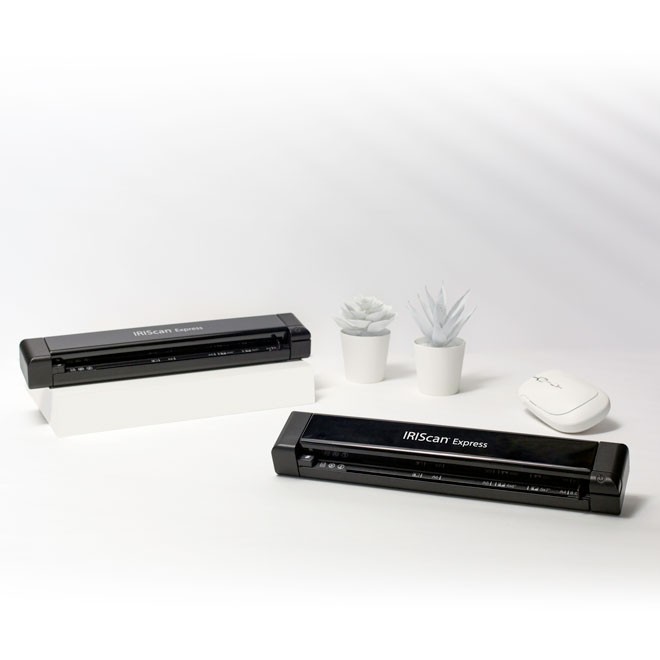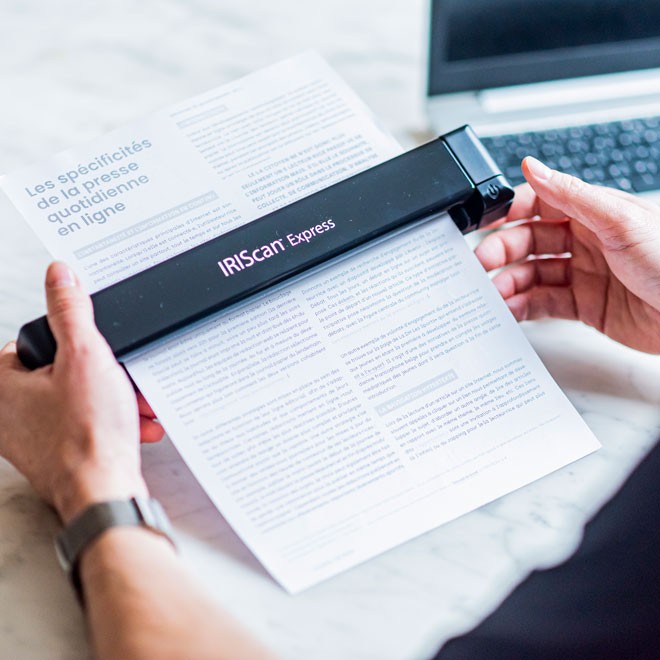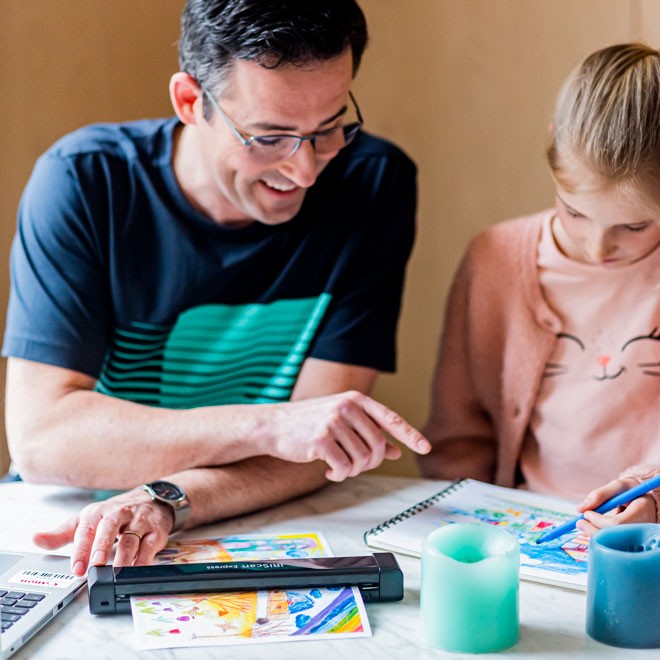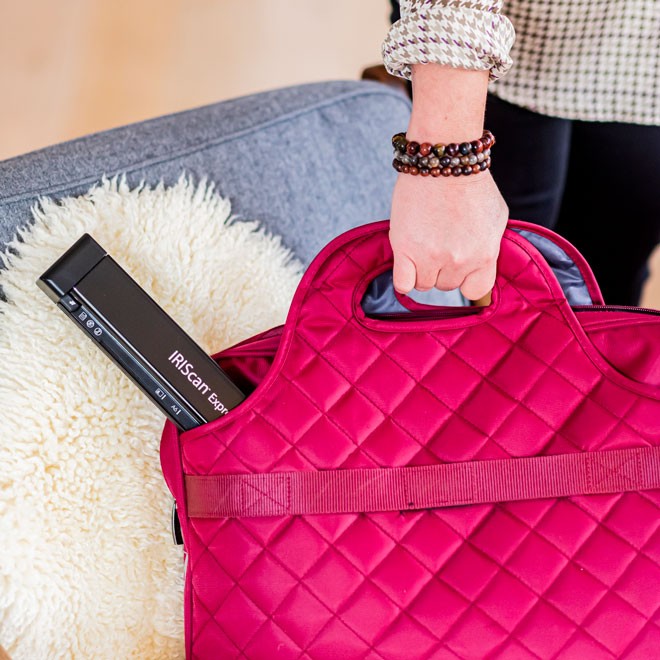 Sheefted scanners
IRIScan Express 4
Fast and Efficient Scanning: The ideal professional portable scanner is a USB powered scanner that can quickly scan documents and images.

Versatile Document Scanner: The scanner has outstanding PDF and OCR management capacity, and can recognize more than 138 languages, making it a perfect fit for multinational businesses. The scanner's versatility allows you to use it for a wide range of tasks such as scanning business cards, receipts, and other documents.

Smart Readiris Software: The scanner comes with Smart Readiris software that lets you manage your documents with ease. This optical character recognition software (OCR) package allows you to convert scanned documents into editable text, Word files, indexed PDFs, WAV audio file, or even an epub file compatible with most readers.

Business Card Scanner: With the Cardiris 5 business card software that comes with the scanner, you can quickly scan and extract data from business cards. You can then export your digital contacts to Outlook, Excel, Salesforce, ACT!, etc. and also share them via cloud services like Evernote, Dropbox, Box, and Google Drive.

User-Friendly: With the "button manager" software, you can assign up to nine different functions to your scanner, making it easy to use for all your scanning needs. With a single click, you can scan PDFs, Word files, or image files to the Cloud or directly into the software of your choice, making it an ideal tool for busy professionals.
Express Delivery
2-3 days
30 Days
Money-back Guarantee
2 years
hardware warranty
Scan your documents in a few seconds
Your invoices, administrative documents, delivery notes, prescriptions, and contracts will be stored in no time with the IRIScan Express 4. This portable USB scanner will allow you archive all your documents in an organized and automatic way. Storage of your documents is thus guaranteed, and they are available at any time
Straightforward and simple
Simply slide the page you want to scan into this portable USB sheetfeed scanner, and it will come out scanned in a few seconds. You can scan any type of document at the rate of 8 pages per minute. Whether they are professional or private documents. The resolution of the scanner, up to 600DPI or 1200DPI, for an optimum quality.
Scan in just... one... click!
Equipped with a personalisable smart button, used to automate frequent scanning tasks. In one click, it lets you send the documents you scan to the program of your choice. This portable USB scanner is compatible with many different programs. Save previous time, with fewer steps to perform.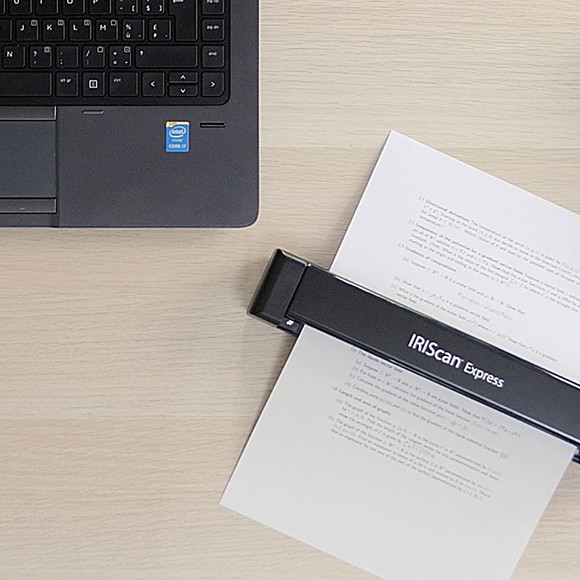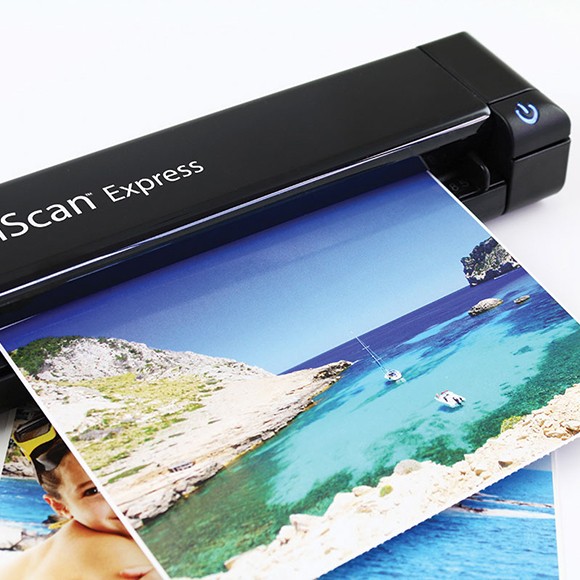 Portable USB scanner for Windows
Just connect it via USB to your. No need of batteries and no charging time is necessary. Connect it, and it is operational. No more warm-up time or waiting time when a battery is discharged. The USB socket is on the side of the scanner, you can be sure that the cable will not get in the way when you are scanning a document. In addition, IRIScan Express 4 uses the TWAIN driver. It can adapt and integrate with all types of application.
Quick reference guide
| | |
| --- | --- |
| Product name | IRIScan™ Express 4 |
| SKU | 458510 |
| SKU AME | 458511 |
| EAN code | 5420079900028 |
| UPC-A code | 765010736645 |
| Custom code | 847190 |
Box Information
Box Size (H x L x D):
13,8 x 30,8 x 5,8 cm (5.43 x 12.12 x 2.28 in)
Box Weight:
700g (1.54 lbs)
Scanner size (H x L x D):
3,4 x 29 x 5,1 cm (1.3 x 11.14 x 2 in)
Scanner weight
383gr (0.84 lbs)
Box languages
Arabic, Dutch, English, French, German, Italian, Portuguese, Simplified Chinese, Spanish
Box content
IRIScan™ Express 4 mobile scanner
USB cable
Calibration sheet
OCR software online
Scanner specifications
| | |
| --- | --- |
| Image sensor: | A4/letter color contact image sensor |
| Resolution: | 300/600/1200 dpi |
| Maximum scanning speed: | 300 dpi color or black and white - 8 pages per minute |
| File formats: | JPEG & PDF |
Minimum requirements
| | |
| --- | --- |
| Windows® Operating System: | Windows® 7 - 8 - 10 - 11 |
| Processor: | An Intel® Pentium based PC or equivalent is recommended |
| RAM memory: | 128mb RAM is recommended to process grayscale and color images |
| Hard disk space: | 300 MB free disk space |
| USB: | USB 2.0 Port |
| Other: | Internet connection to download software |
Fusce vitae nibh mi. Integer posuere, libero et ullamcorper facilisis, enim eros tincidunt orci, eget vestibulum sapien nisi ut leo. Cras finibus vel est ut mollis. Donec luctus condimentum ante et euismod.
Pellentesque habitant morbi tristique senectus et netus et malesuada fames ac turpis egestas. Suspendisse eget facilisis odio. Duis sodales augue eu tincidunt faucibus. Etiam justo ligula, placerat ac augue id, volutpat porta dui.
Anna Kowalsky
- April 3, 2019
Sed id tincidunt sapien. Pellentesque cursus accumsan tellus, nec ultricies nulla sollicitudin eget. Donec feugiat orci vestibulum porttitor sagittis.
Peter Wargner
- April 3, 2019